Moving Estimates and Their Different Types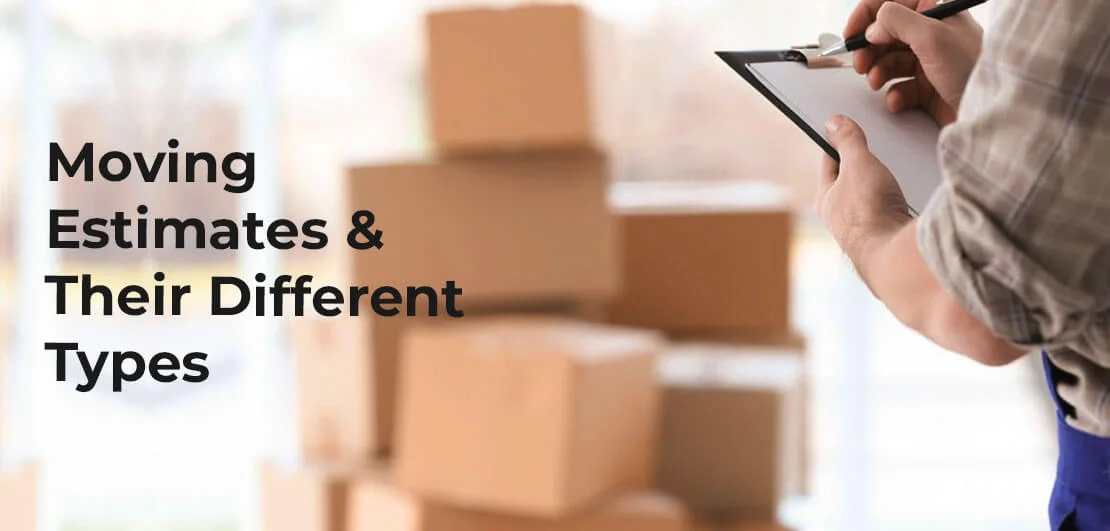 Did you ever hear the terms binding estimate, non-binding estimate, or binding not-to-exceed estimate? Probably not. Unless you are a moving expert or involved in the moving industry by any means, you might have no idea about these terms. But for a successful and affordable move, you should have a thorough understanding of your moving estimate.
Moving estimate is the total of the costs of various processes involved in the moving. But a question strikes your mind that what are the charges listed in a moving estimate. A moving estimate includes- Name & Address of the mover, mile traveled, tariff cost, estimated weight of the shipment, discounts, packing and unpacking fees, loading and unloading charges, transportation charges, storage charges, fuel cost, insurance, and additional services. Any moving estimate must also include the cost of packing supplies and moving supplies.
People claimed that their "Online moving estimate got doubled on a moving day" or "I did not get any moving estimate"; these unfortunate events can make your moving experience terrible. So, before booking any moving company, do not blindly sign the contract; go through it and research the type of estimate offered to you. Understand its pros and cons before making any decision.
Moving hassles make people furious, and they do not have enough time to do thorough research about their moving estimate. So, Van Lines Move came up with a solution, and we will help you understand different types of moving estimates viz. binding, non-binding and binding not-to-exceed estimates.
Non-Binding Estimate
A non-binding estimate is a quote generated based on the weight of the belongings for the move. As this is "non-binding", this estimated amount is not fixed, and it will changes depending on the accurate weight of the belonging during the moving. So, the actual cost of your move will remain uncertain until moving day. Since this is the approximate cost for your move, you should consider additional costs to the moving estimate on a moving day. Not exactly the best option for a moving estimate, and you would have to pay more than the expected amount.
Binding Estimate
When a moving company offers you a binding estimate, the moving quote generated is according to the approximate weight of the belongings, and this is a fixed cost estimate. If you accept the "binding estimate" then, you have to pay the quoted amount as per the original estimate. The changes in weight or any additional cost will not impact the initially estimated cost. However, the customer cannot pay less than the initial estimate even if the total weight of the belongings is less on a moving day. Here, the estimated moving cost remains the same. The cost of the move cannot be changed either by the mover or by the customer.
This type of moving estimate is the best option as your concern about the last-minute extra charges will not be there. For a correct binding estimate, you should collect moving quotes from multiple moving companies. A binding estimate provides peace of mind to many during the hassle of moving. This type of estimate can help you in planning your move and setting up a moving budget.
Binding Not-to-Exceed Estimate
A binding not-to-exceed estimate is the most popular moving estimate preferred by customers for interstate or long-distance moves. In this type of moving estimate, customers have to pay the amount according to the initially provided moving quote even if the weight of the belongings exceeds during the move. But, if the total weight of the belongings is found less than estimated, the customer will only pay the amount according to the total weight of belongings on a moving day. It means people who decide to opt for binding not-to-exceed moving estimates for long-distance moves could end up paying less than estimated.
These are different types of moving estimates you could find while approaching moving companies for your move. We recommend you book a moving company in advance to avoid last-time moving service costs. If you plan to move soon, you can visit Van Lines Move at www.vanlinesmove.com for free moving quotes from multiple qualified moving companies. Do not forget to ask your mover about the type of moving estimate they offered you to avoid any confusion during the move.
Ready For your Move?
Start your booking
today and save
time and money!
Get Quote
Ready For your Move?
Start your booking today and save time and money!
Get Quote
Categories
Archives