Call Now & Get $200 Off on your Move
Get Quote
Top Truck Rentals in USA
Compare and See the Difference. Book Full-Service Mover.
Get Quote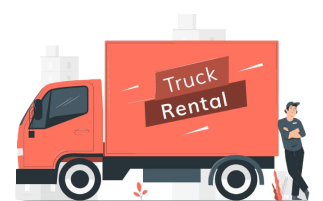 What is Truck Rental Service?
Truck rentals are moving trucks people rent when they plan to have a DIY or self-moving. Truck rentals are affordable choices in comparison to moving companies. There are different-sized moving trucks available to rent as per the property size. Besides being affordable, they are highly flexible in terms of complicated timelines of moving companies. But renting a truck can be full of risks and challenges. If you book a truck rental then you are responsible for everything from packing-unpacking, loading-unloading and even driving the truck to the destination. You might need a nationwide driving license and permit and there are high risks of item damage and physical injury. A full-service move can be easy and risk-free, but the decision is yours as it is your move.
An Overview
Truck Rental vs Full-Service Moving
Let's do a detailed comparison between Truck Rental and Full-Service Moving
Truck Rental
Full Service Moving
Pricing
Additional cost of gas, toll, distance etc. to the base price

All-in-one

moving cost for all services viz. packing, loading, unloading and driving
Moving Labor
Hire loading labors separately
Professionals will handle loading & unloading,

no need to hire labor separately

Driving
Drive the rental truck on your own
A

licensed driver will drive

the belongings to the new location
Delivery
You can schedule the delivery, but your work routine can impact the moving
Schedule and get

delivery on time

, no impact of your work routine
Storage
No storage option available
No storage option available. Storage can be arranged on request
Sizing
Multiple size options for rental trucks available
Size of truck for full-service move

depends on the property size

Parking
Rental trucks have the legal authority to park everywhere
For a full-service move, parking required for few hours only around the pickup location
Risk
Risk of physical injury and item damage because of self-loading
Moving tools and devices are used for loading-unloading, resulting in

no injury or damage
Before you pick the suitable option for your next move, go through the comparison once. Van Lines Move is making full-service moving effortless by providing free moving quotes online. Compare instant moving estimates from trustworthy moving companies here.
All set for booking a
Truck Rental Service?
Compare multiple moving estimates &
book mover instantly.
Get Quote