Things to consider before you move in 2023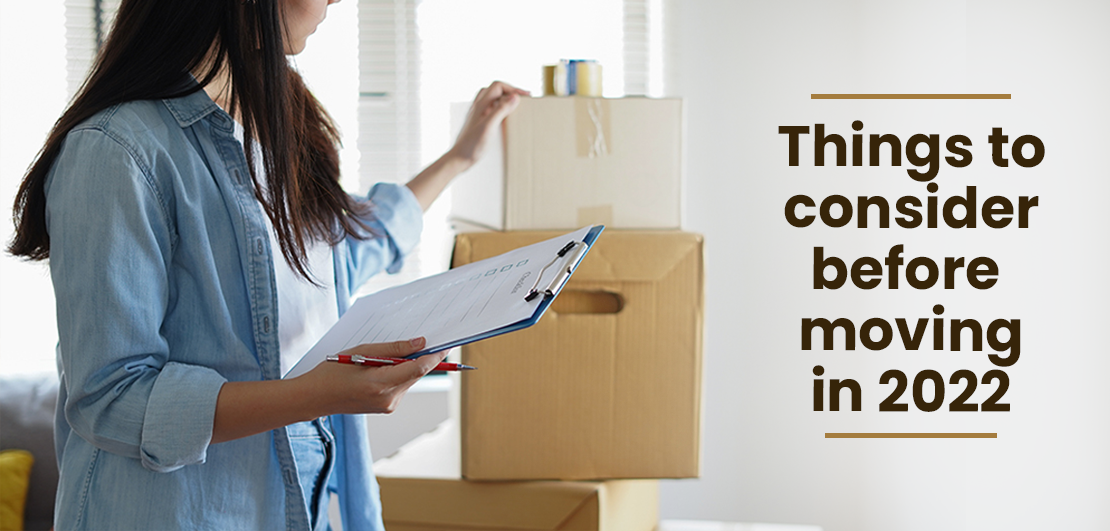 Moving to a new city or state is emotionally and physically challenging, but it can be a happy moment if you plan your move thoughtfully. Everyone has their own choice for their perfect home and other amenities to start their life in a new city. When you decide to move to a new city, you should consider the following factors to make a perfect home-
Cost of living
One major factor to consider before moving to a new city is the cost of living. Cost of living is a sum of multiple factors like rental and buying price of houses, job market, and different amenities. Different costs to consider when you evaluate the cost of living, do not forget to add costs- grocery costs, commuting costs, etc. Don't miss the smallest expenses as they will add up in the end.
Safety
The crime rate in a city must be a weighing factor while planning for a new city or state. Everyone prefers to keep their family safe, and thus before you decide to move to the new city, learn about the crime status. There are various resources available on the internet, and here you can determine the crime rate in a city. If you want any specific information, you can contact the local police department of the area where you are planning to buy or rent the house.
Job Market
Along with the other mentioned factors, it is important to consider the feasibility of finding a job in a new city. Most of the time people move to new city or town because they have switched their employers. If you have specialized skills and want to start your career, then research well about the possibilities of work in a particular area. Also, study about the unemployment rate in the city. All these things will help you make a better decision about moving.
School
If you have young children, you will prefer to move to a city which offers a quality education at each level. So, research the schools on the internet and contact them individually for any concerns. Each city or town has different schools, like public schools, private schools, universities, and colleges. Learn more and more about these schools as per the study choices of your children.
Neighborhood
A good neighborhood is a priority when you decide to move with your family. Everyone prefers to have a homely environment wherever they live. A perfect neighborhood must have open
spaces, greenery, budget-friendly markets and houses, and cooperative people. Research the neighborhoods of the city on various resources available on the internet. List out the pros and cons of the neighborhoods in the city and take the decision.
Transportation
One of the biggest challenges is how to get around when you move into a new city. Every city has specific transportation rules and regulations. In many cities, public transportation is way better that you don't have to drive your vehicle. And some cities are all about car and bike riding people. Mode of transportation also added to the cost of living. You have to evaluate the cost of public transportation or gas cost. Learn about the city transportation before you move, and it will help you decide to transport your vehicle.
Culture of City
Determine the culture of the city when you are planning to move. Life is not only about doing a job, studying, and earning money. You may also need some recreation. If you are moving into a new city, learn about the preferences of the locals as it will help you in mingling. Also, learn about festivals, celebrations, and liberties for the residents.
Now, you can understand that there are multiple factors that you need to consider before moving into a new city. Once all the research is completed and made up your mind to move, find a reliable moving company to make your move relaxing. Vanlines Move can help you find a moving company with a free moving quote online. You can explore the cities at www.vanlinesmove.com.
Ready For your Move?
Start your booking
today and save
time and money!
Get Quote
Ready For your Move?
Start your booking today and save time and money!
Get Quote
Categories
Archives