Tips for Sustainable Move and Living in 2022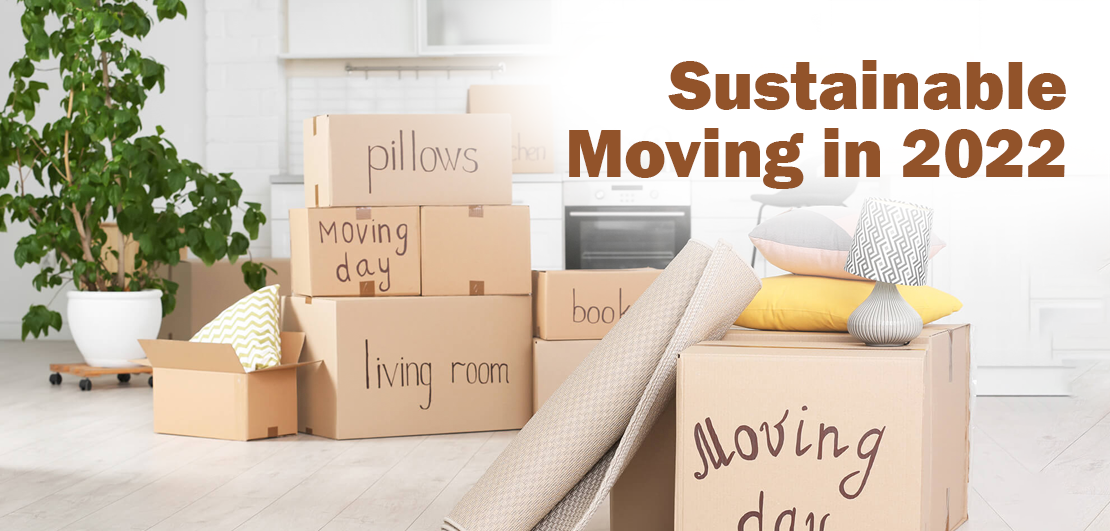 As we enter a new year, you might be looking for some changes in your lifestyle. Such changes can inspire you to buy and use the products that benefit the environment. At Van Lines Move, we offer full-service moving quotes and suggest you some sustainable moving tips for your next move.
Sustainability is the art of living that helps in fulfilling daily needs without affecting the environment. It means living a lifestyle by using items producing low waste and recycled items. It will help improve the quality of life by contributing to the betterment of the environment. We can make our own choices to lead a sustainable life. And we all can use some tips for sustainable living.
We have compiled some great ideas and solutions that you can implement in your house to make the lifestyle green. Though changing the lifestyle is not one day process. It will take some days or months to make sustainable ideas a part of your lifestyle. Things that can influence your way of living include your food habits, clothing, and other items you buy for yourself.
Consider the following tips to start your sustainable living-
· Always carry bags whenever you go out shopping

· Use reusable cutleries

· Switch your documentation from paper to electronic

· Use smart power strips for electronic appliances

· Use metal or reusable water bottles

· Dry your clothes in the air instead of multiple rounds in the dryer

· Turn off the power supply when appliances are not in use

· Switch your lightbulbs to LEDs

· Use environment-friendly household cleaning products

· Buy organic food items, and if possible, cut down your meat consumption

· If you have space grow your vegetables

· Try using public vehicles instead of driving a personal car or bike

· Use energy-saving appliances

· Go for solar panels to conserve energy

· Buy clothes from sustainable brands

· Be a part of environment saving organization

· Recycle the waste to maximum
Implementing some of these tips in your way of living can bring a visible change in the environment. To start, try only a few things and see the changes it will bring in your life and surrounding. To make your sustainable living a success, you can minimize the purchase of useless items. Instead, you can rent such things. Try to recycle a maximum of your paper and plastic waste and benefit the environment.
Let's discuss how you can make your moving sustainable.
First, we will see how we can make packing sustainable. Start decluttering your home, donate and sell items you don't need. If you want to throw away the belongings of no use to you or anyone else, take them to recycle if possible. If you have a sentimental attachment with things, and you cannot take them to the new house, you have the option to store them in storage units.
There are various ways to make your moving sustainable and minimize waste while relocating. Though every move will result in waste products, there are several ways you can make it sustainable. Let's discuss how we can make moving sustainable.
Hire Professional Moving Companies
The best possible way to make your move sustainable is by hiring professional movers for your complete relocation process.
Professional moving companies plan the move efficiently and use less waste-producing packing supplies. They create a moving plan by considering moving routes, appropriate moving dates, and the perfect size of moving vehicle for the lowest gas consumption.
Use reusable and recyclable packing material
Most of the time, you use plastic wraps or bubble wraps to protect the belongings from moisture. But these are neither recyclable nor reusable. If you are packing your belongings on your own, buy wrapping materials that are easy to recycle. If you hire a professional moving company, ask them to use recyclable material for packing like cardboard boxes. You can minimize the cost of packing material by wrapping your belongings in waste clothes, old rags, blankets, and old newspapers.
Arrange reusable moving supplies
Another great way to make your moving experience more sustainable is by reusing the moving supplies. You can collect boxes for free from different places and try using recycled material. You can use the moving boxes for storing the items later in your new house.
Sustainable living, moving, and packing bring a difference to your life as well as to the environment. You can use these tips and make your lifestyle sustainable. Choose the right way of living for yourself and make the best choices for your future. You can get more moving hacks, and full-service moving quotes from Van Lines Move at www.vanlinesmove.com.
Ready For your Move?
Start your booking
today and save
time and money!
Get Quote
Ready For your Move?
Start your booking today and save time and money!
Get Quote
Categories
Archives