How do Long-Distance Moving Companies charge?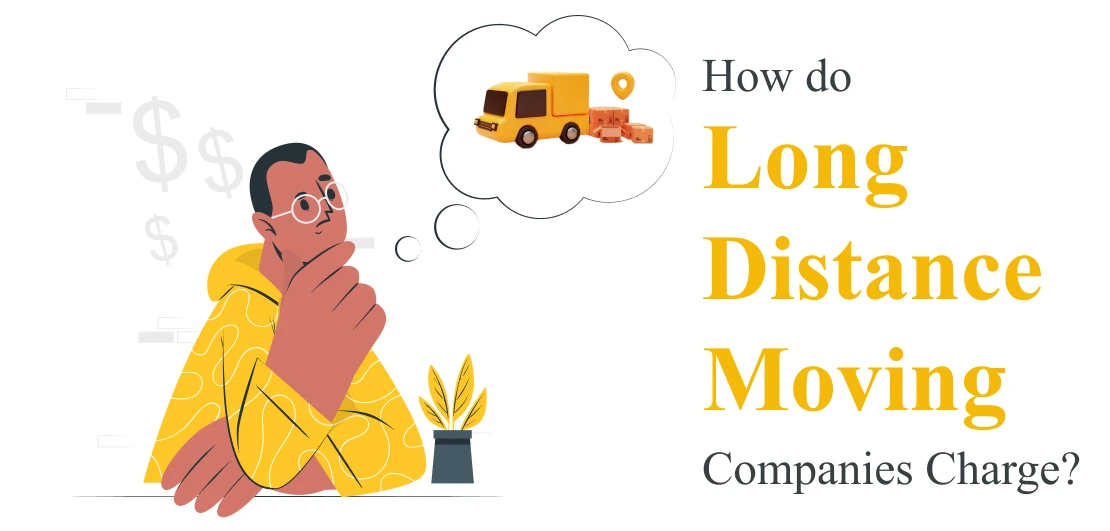 What is a long-distance move?
If a person has to cross a state border to relocate, the move is considered long-distance. Moving across borders is more difficult than moving locally since it takes more planning and preparation. Cross-country moves, interstate moves, out-of-state movers, and state-to-state moves are different terms for long-distance moves. You have to take care of several things while moving a long distance, including paperwork, good packing, and ensuring the safety of the valuables in transit.
If you are moving across states, there are numerous ways to get from point A to point B. Full-service moving, self-moving, PODs, and freight services are common long-distance moving options. Depending on the services required for each type of move, the costs involved with each of these moving options differ.
How to evaluate the cost of a long-distance move?
The size of the shipment, the distance, and the type of move are major factors taken into account when determining the cost of a long-distance move. In one of our earlier articles, we talked about moving costs. If this is your first move, you must be aware of all the different costs that are included in the moving quote.
According to this article, moving costs can be evaluated on an hourly basis. Depending on the type of moving, hourly costs for a move might range from $25 to $85 per mover per hour. These are the costs for the manpower; though additional costs will also be included.
An article titled "How much do movers cost?" was published in Forbes Home. The article states that the cost of a long-distance move can fall between $2,200 and $5,700. According to the size of the property and the distance to be travelled, the cost of a long-distance move might range from $600 to $10,000.
Van Lines Move has helped more than 150K families in their long-distance moves since January 2022 till date. In the table, we have compiled the range of moving costs for long-distance moves in 2023 for different property sizes.
| | | | |
| --- | --- | --- | --- |
| Total Miles Covered | 1 Bedroom | 2-3 Bedrooms | 4-5 Bedrooms |
| <500 miles | $1,300-$1,600 | $2,000-$2,450 | $2,300-$2,600 |
| 500-1000 miles | $1,550- $2,000 | $2,500 - $2,900 | $2,700-$3,100 |
| 1000-1500 miles | $2,100-$2,400 | $3,100-$3,660 | $3,150-$3,550 |
| 1500-2000 miles | $2,450-$2,900 | $3,500-$3,800 | $3,600-$4,200 |
| >=2000 | $2,950+ | $3,850+ | $4,100+ |
With Van Lines Move, you can determine the cost of your long-distance move within seconds. We have introduced a free tool online- Moving Cost Calculator. A free access tool thatanyone can use to determine the estimated cost of their move by entering a few moving details. Van Lines Move provides long-distance moving services across the 48 states of the USA, and our moving cost start from $1999 (can vary depending on moving factors).
Different factors affecting long-distance move?
When you plan a long-distance move, you have to consider several factors. Here we will discuss all the factors moving companies will consider while generating a moving quote for a long-distance move:
Distance- Longer the moving distance, the higher the moving cost. Long-distance moves are expensive as multiple various costs are included in it like gas price, accommodation cost for moving crew, tolls and taxes, crew wages and more.


Demand of Location- Moving costs for a long-distance move can increase or decrease as per the demand of the location you are moving to. If your destination location is on interstate highways, your moving cost will be lower than the moving cost for off-beat locations. Locations on the interstate highway have easy access for commuting and thus cost less as compared to locations in the interiors.


Number of Belongings- The number of belongings is one of the significant factors to affect the moving cost. When any moving company collect your moving details, they ask for the size of your property and the total number of items to be moved. It will help them in estimating the size of the shipment and the larger the size of the shipment, the more you have to pay. The weight of the shipment determines the cost of your long-distance move.


Types of Items- Moving costs for long-distance moves can be affected by the types of items you will move. Items like vintage furniture, fine arts and precious decors require special packing and moving supplies. Your valuables will remain safe, but you have to pay more to ensure safety.


Number of movers & packers- To move a larger house, you will need more crew members. The moving company will arrange for more crew members to complete the process within the given time frame.


Moving date- Summer is the best time to plan your move and it is the peak season for moving. But the moving rates are higher during the peak season means you have to pay more. Moving on weekends can be expensive, so choose your moving date wisely. · Add-on services- As you are moving across the states means you might need a car transport service and storage service. These can also affect the moving cost. Buying insurance can also be considered as an additional expense to your moving cost.
How can you save money on long-distance moves?
So, finally, you understand the cost of your long-distance move. Yes, it is expensive to move from state to state, and people find it difficult to manage such a huge expense. Several people drop the idea of moving, just to avoid the expenses of moving. But we can help you find some ways to save money on your long-distance move. Here we go:
Declutter your belongings by selling or donating the items you don't need at the new place.


Pick off-season or weekday for your move


Pack your house with the help of family and friends to avoid packing expense


Compare multiple moving quotes online


We hope these tips will help you. Moving across the states can be emotionally, physically and financially challenging. But a professional long-distance moving company can help you out through the journey.
Looking for a long-distance moving company?
Now, as you know how much a long-distance move costs, it's time to reach out for moving quotes and find a suitable mover. Van Lines Move can help you find the best moving company to handle your long-distance move, and that too in your budget. Our professional movers are always ready to provide quality moving experiences.
Ready For your Move?
Start your booking
today and save
time and money!
Get Quote
Ready For your Move?
Start your booking today and save time and money!
Get Quote
Categories
Archives