Prepare for Long Distance Move with Expert Moving Tips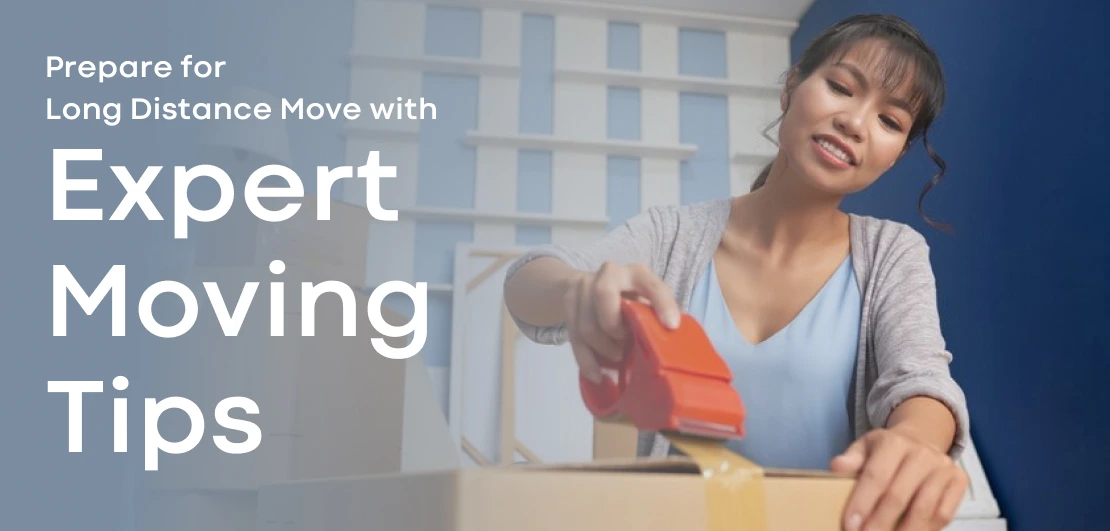 Moving to a new state for a job or family can be a mixed experience of excitement and emotions. Local moves are easy, but long-distance moves are difficult in several aspects- financially, physically and emotionally. A long-distance move means a lot of planning and preparation as you have to move your life from one state to another. But with expert tips and professional moving help, you can handle the move.
Van Lines Move aims to provide an incredibly moving experience to all its customers. We have professionals to handle each stage of moving with high efficiency. But in case you are looking for some tips from experts to make your moving journey a better experience, here are some moving tips:
Prepare ahead of time
So, finally, you are moving soon. Now, it's time to start planning and preparing for the move. Moving is a long journey, and you have to plan everything strategically. Once you decide to move, create a planner and checklist for packing and moving. You can also download the moving checklist and moving planner online and start working. If you start now, you have enough time to prepare your new home, inform everyone, complete paperwork and more.
Find a reliable moving company
As soon as you create your moving plan, start looking for professional moving companies according to your moving requirement. There are several ways to connect with moving companies through calls, website visits, and office visits. Finding a moving company online is highly efficient as it can help you save time and money. These days most moving companies provide free moving quotes online. It is better to collect multiple moving quotes online.
Research & compare movers
Compare moving quotes you collected online to pick the best mover that will fit your budget. You can compare their services, the customer feedback and most importantly moving costs they are estimating. Several fraudsters initially quote very cheap prices for your move, but at the last moment, they charge you a huge amount. You can research the moving company on FMCSA and BBB to learn about their licensing. Always check the USDOT number of the moving company whether it is active or not before making any decision. After all the research and comparison, pick the best mover and book instantly before they get busy on your preferred moving date.
Declutter- Donate and Sell
Once you start packing your home, you will find several items you have not used for years. There are clothes, furniture, electronic appliances and more. You can donate or sell such items online or through yard sales. You can ask professional junk removal companies to clear such junk and take care of these items. This will help you in limiting the size of your shipment.
Pack beforehand
Packing is the first and most crucial stage of the moving process. After clearing out the junk from your house, you can easily decide how to start packing. Always create a strategy for efficient packing, as this will save time. Pick the room that is of less use and start packing from there. Pack your seasonal clothes, crockeries, house decor, and storage items first. With such strategic packing, you are left with only a few items at the end to pack. Don't forget to mark or label the boxes, as marking will simplify unloading and unpacking. Packing is the best time to hang out with your friends; they can give you a helping hand and create some wonderful memories before your move.
Gather the right packing supplies
So, you decided to pack your house by yourself, but you will need some help. Ask your family and friends to come over to your place, you can have a packing party. Now, the most important thing to secure your belongings is to use the right packing material like- Wrapping sheets, tape, moving boxes, and more. You can use old bedsheets, rugs, carpets, towels, etc. to add cushioning to delicate items while packing.
Book childcare & pet care service
On your moving day, it is difficult for you to take care of your children and pet. Since the house is full of strangers working with furniture and heavy item, there is a risk of injury. You can avoid injuring your children and pets by asking someone to take care. If you have family or friends who can take charge, it's perfect. But if you don't have anyone, book a professional childcare and pet care service.
Inform service providers
This is one of the important tasks in your moving checklist- inform service providers, banks and insurance companies about your move. If you are moving out of state, you have to update your new address in all such places. You must inform your doctor or pediatrician about the move and ask for references in the new location. Also, request to transfer your medical records for future reference. Inform the gym and club about your move, and terminate your membership from the decided date. This will save you time at the last moment of the move.
Prepare your new home
As you decide to move to a new state means you have to find a new home. After booking a mover, research your new home online in preferred neighborhoods. You should visit the house before moving there to see the condition of the house. In the meantime, you can get it prepared after discussing it with the new landlord.
Prepare survival kit
A survival kit is a bag with all the necessary items that you might need on the first night of your move. Don't forget to prepare your survival kit as you need to take care of yourself during the hectic process of moving. In the survival kit pack- snacks, water bottles, juices, beverages, medicines, a first-aid kit, a torch, and any necessary item you need. If moving with pets, take essentials for them as well.
Don't forget to buy moving insurance
Most moving companies protect your belongings but confirm it with the moving company before booking. If your moving company does not provide moving insurance, buy it separately. Several insurance companies are offering complete moving insurance and individual item protection as well. Choose the best-suited option to get compensated for any damage or loss to your items while they are in transit.
Travel plan
Moving to another state means you have to prepare for your travels as well. Once your move date is final, book your flight tickets or however, you are planning to travel. Booking services in advance will save you a lot of money as ticket prices get higher day by day. Also pack a bag of essentials you might need while travelling like food, medicines, beverages, and more.
Moving can be tiring even if you have planned everything. But if you have planned everything then at least your mind will remain calm even during the moment of chaos. Follow these tips, prepare a moving plan and let everything goes accordingly.
Ready For your Move?
Start your booking
today and save
time and money!
Get Quote
Ready For your Move?
Start your booking today and save time and money!
Get Quote
Categories
Archives