Moving Company Canceled at Last Minute? Check out the Solutions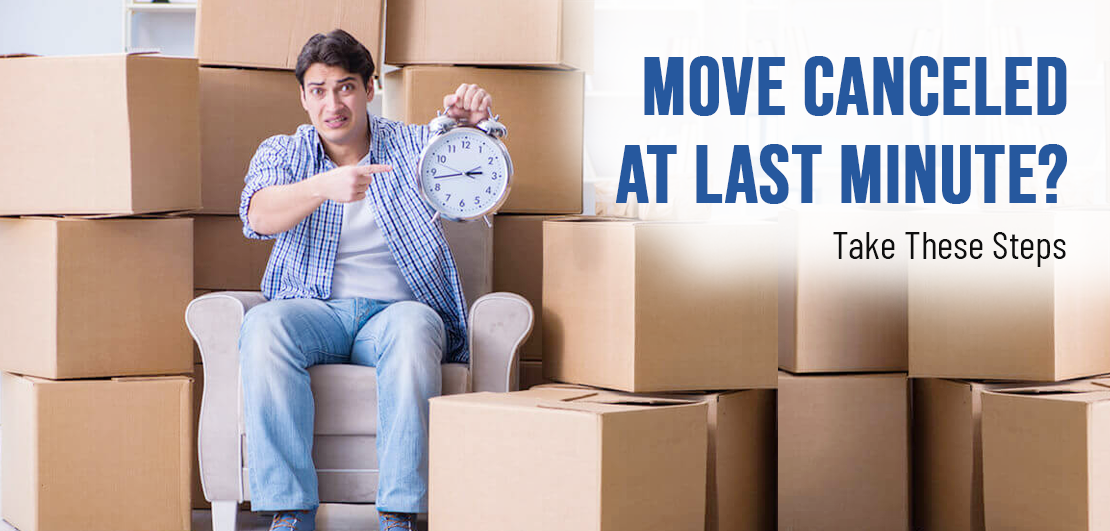 Even after planning your move with all the required efforts, something terrible can happen, like your moving company cancels the relocation. You might be wondering whether it is possible or not. Yes, it is possible, and there are a few valid reasons why your moving company cancels your move. Some of the reasons moving companies can give include accidents, bad weather conditions, and natural disasters. Other than these reasons, if your moving company crew has some family emergency, they might cancel on your move. Such natural causes are not in control of the professional movers. In such an event, your moving company can offer you a solution.
But there are times when your mover doesn't show up at all, and this will be a completely different scenario. It is possible when you deal with scam movers. Irrespective of the reason for the last-minute cancellation of your move, here are a few things that you can do.
Notify Authorities
The first action you should take is to notify the authorities if you find the moving company you booked is a scam artist. After contacting the moving company several times, you realize that the moving company was fraudulent, then inform the police. The next step is to contact FMCSA (Federal Motor Carrier Safety Administration).
Search for another mover
If your moving company is not rescheduling the move, or you have decided not to do any business with them, you can find another moving company. When you first searched for a mover, you have researched a lot and contacted many. But this time, you can save your time, money, and energy by finding a reliable and trustworthy mover with Van Lines Move.
Reschedule your move
Though this is not the best choice when your mover denied conducting the move on promised schedule and can reschedule it on a different date, take the option. Since you have invested money and time in finding a mover of your choice, rescheduling the move is a better option. If you manage to postpone all other things on a different date which the mover decides, you can ask them for some discount or compensation.
Contact Last-Minute Moving Companies
Some moving companies offer last-minute moving services for urgent moves. Last-minute moving services costs higher than usual, but this can be a lifesaver. It will help you save time and energy by rescheduling the move for another date. This service is helpful when you have a deadline for vacating the old house and moving into the new one. If you are in touch with the moving company that canceled your move, ask them to refund your deposit. Not only this, you
can ask them for the difference in the price your new moving company quoted as they are responsible for the cancellation. It also depends on the cancellation policy of the hired moving company you agreed upon while signing the contract. Van Lines Move can help you find last-minute moving companies.
Reach out to Freight Companies
Local freight companies provide removal services in which they only transport the belongings. You can contact these freight companies to transport your belongings, and you can hire a few helpers to pack and move the items into the truck. If you have hired a full-service moving company that canceled your move, then hiring a freight company may not be a better option. But if you have packed everything and are ready to move, this option can save you from the stress of last-minute cancellation by a moving company.
Hire PODS
PODS can be a savior for you when your moving company cancels your move last minute. If you have everything packed, you can rent POD for moving your house. You can contact POD moving companies, and they will deliver the moving container to your location within hours. Moving PODS are one of the best options to keep your belonging safe until you find a solution. You can ask the POD moving company to transport the POD to your new home location. It is affordable as compared to the regular moving service for long-distance moves.
Rent Storage Units
If you have no other option, you can go for short-term storage. Renting a storage unit is affordable, and your belongings remain safe until you come up with some plan. The only thing you have to manage is the transportation of the belongings from the house to the storage units.
Before hiring a moving company, learn about their service and concerned policies. Find a reliable moving company with long-term moving experience with Van Lines Move. To connect with a moving company, visit the https://www.vanlinesmove.com/moving-company.
Ready For your Move?
Start your booking
today and save
time and money!
Get Quote
Ready For your Move?
Start your booking today and save time and money!
Get Quote
Categories
Archives