Moving to College? Find the cheapest ways to move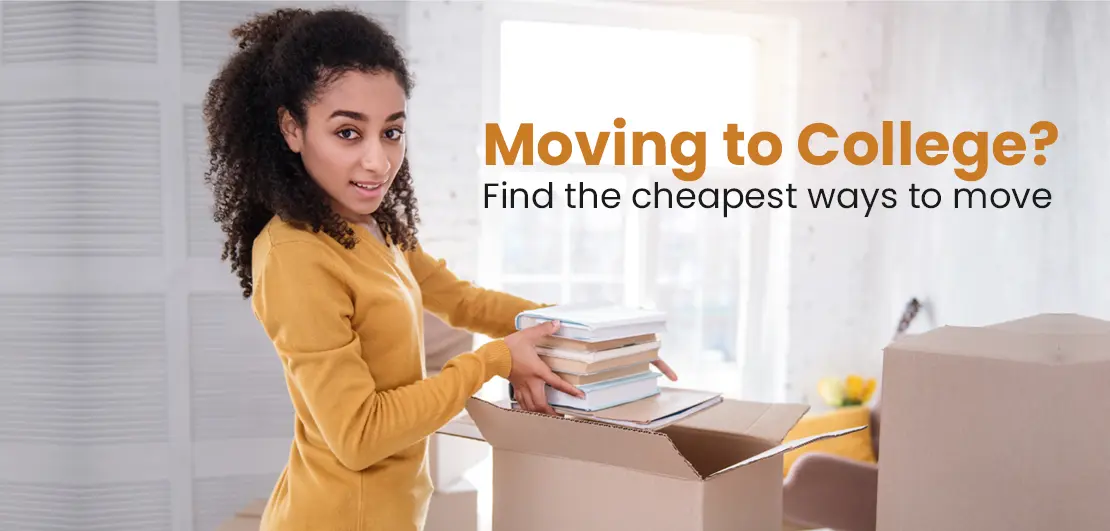 Are you heading to college to start a new phase of your life? Get all the affordable services and supports that make your out-of-state college move highly efficient. Moving to college involves various expenses, and if you want to minimize the cost of your relocation, then it will help you a lot. Several ways can help you save money on relocating to campus from your home. Let's see what are the cheapest modes to move to an out of state college-
Personal Vehicle
If your college is close to your home, then carrying your belongings in your car is one of the cheapest moving options. Pack all your stuff, load it in the trunk of your car, and make a trip to your college. But this option has a limitation of distance, and you cannot carry everything if you have to cross state borders. A long drive can be uncomfortable and costs higher than other moving modes.
DIY Move
One of the most affordable ways to move to your college in another state is a DIY move. In this type of move, you have to do everything by yourself, like packing-unpacking, loading-unloading, and driving. This can be tiring and require more time to conduct the move. But most people prefer this way, as the complete move is in their control.
Rental Truck
Moving trucks or rental trucks are considered one of the cheapest modes of moving. The only reason you may not opt for this option is driving a bulky vehicle to the campus. Also, keep in mind that the gas mileage of rental trucks is less compared to regular cars, which means long-distance moves become expensive instead of being the cheapest mode.
Shipping Services
There are multiple shipping companies like FedEx, UPS, USPS, and more which offer state-to-state shipping services for heavy and bulky items. You can choose this as one of the moving options to your college. But this cannot be cheap if you have to ship a lot of things. For a limited number of articles, this can be a better option. Also, keep in mind that some dorms do not accept deliveries.
Moving Companies
Several moving companies offer moving services specially customized for students. They provide local as well as long-distance relocation services to students who are moving from their homes to college. Moving companies handle everything for students and make moving a lot easier for them. This moving mode can be a low-cost option as one company handle multiple services.
Some other ways that can help you reduce the cost of your college move- Student discounts, moving with friends, asking companies for student offers, and if you are moving during a peak season pick a date with the cheapest move.
How does Van Lines Move make relocation cheap for Students?
Van Lines Move is an online platform that connects people moving across the states to licensed moving companies. We have made college move much easier for students. We understand that starting college is both an expensive and emotional moment for students. They have to leave their home, family, and friends behind to start a new phase of their life. A huge amount is required for admission and other formalities. So, we customized the moving process specifically for students.
In our college moving service, we provide full-service moving packages. As per these packages, you don't have to do anything our experts will pack-unpack, load-unload, and drive your items to your college. These moving services are affordable for students. You can connect with mover anytime you want for free. Visit our website www.vanlinesmove.com or call us at 833-706-1800, provide your moving details and instantly receive a moving quote over your phone or email.
Ready For your Move?
Start your booking
today and save
time and money!
Get Quote
Ready For your Move?
Start your booking today and save time and money!
Get Quote
Categories
Archives