Is it okay to Pay for Packing while Moving?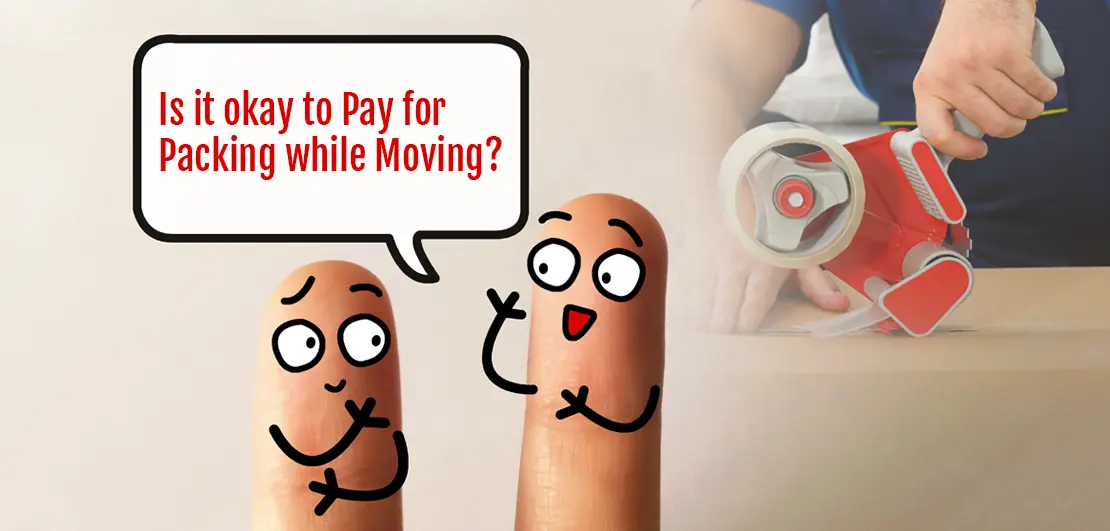 Moving is a tiring and expensive process. Each individual who plans to move wants to save money at each step. Most people believe in doing some moving chores themselves as it can reduce the moving cost, so they opt for partial moving service. In partial moving services moving companies will handle a few tasks while the remaining are done by the person relocating.
The only task people prefer to do by themselves is packing. It is understood that packing on your own is better as you know which item requires special attention and what are their requirement priorities. When you do packing by yourself, it will help you save hundreds of dollars, but this saving comes with greater risks.
Several items in your house or office are huge and will take lots of effort while you pack. If you have a full-time job and kids at home, then you might not have sufficient time to invest in packing. Other than this, there are risks of damaging items and injury while packing heavy items. When you consider these points, you might feel that it is better to hire a professional packer.
If you are still confused about whether it is worth hiring packers for your move, read out the coming sections. We have listed a few benefits of calling professional packers for your relocation process-
· Ensures safety
The most important reason to hire professional packers for your moving is to ensure the safety of your items and yourself. Professional packers are trained to handle different items and know how to pack to ensure maximum safety for fragile kitchenware and decorative. They carry specific packing materials for each type of item listed- for wooden items, they use blankets and plastic sheets; for glass items, they use bubble wraps and more. They pack boxes to ensure the safety of the belongings while loading, unloading, and during transportation. They stuff boxes to prevent them from jerks. As they pack everything, you are free to handle other tasks and safe from any possible injury.
· Packing will become convenient
Making your moving process convenient is another reason to hire a professional packer. As they will handle everything from packing delicate items, and heavy furniture, to packing the boxes and labeling them as per instruction, you are free from all these duties. They make the packing process convenient as well as also add relaxation to your unpacking process. If you pack your household items on your own, it will take several days to complete the packing. But professional packers are proficient and skilled in their work, so they complete everything with perfection within hours.
· Eliminate some relocation stress
Relocation is a beautiful journey but can be stressful in many ways. So, hiring a professional moving company can be a wise decision to find some relief from stress. But how they can help you relax? The answer is they will pack everything with maximum safety and provide the required protection to the belongings, you have nothing to worry about. They will work at a faster pace, so you can hire them for the same day as your moving day and need not worry about the time management. Other than this, for any damage to your belonging, professional movers and packers offer compensation. They provide you moving insurance for your belongings and in any case, if there is any damage you will be compensated with the amount of damage repair.
Though hiring professional packers can add some extra cost to your moving budget. But it is worth every penny as we have discussed several benefits of hiring professional packers. Hiring professional packers will also save you from different expenses like damage repairs and packing supplies. When they pack your belongings, they also arrange them in a particular manner, so that you can unpack the boxes as per requirement. Professional packers will save your time in packing, unpacking, and managing by marking them with different colored markers and titles.
You can save money by hiring a full-service moving company instead of hiring movers and packers separately. A full-service moving estimate costs less than the summed-up individual costs. If you want to know the difference, visit the link and ask for a free moving estimate for your upcoming move from professional moving companies- www.vanlinesmove.com.
Ready For your Move?
Start your booking
today and save
time and money!
Get Quote
Ready For your Move?
Start your booking today and save time and money!
Get Quote
Categories
Archives