Tips to Avoid Last-Minute Moving Cost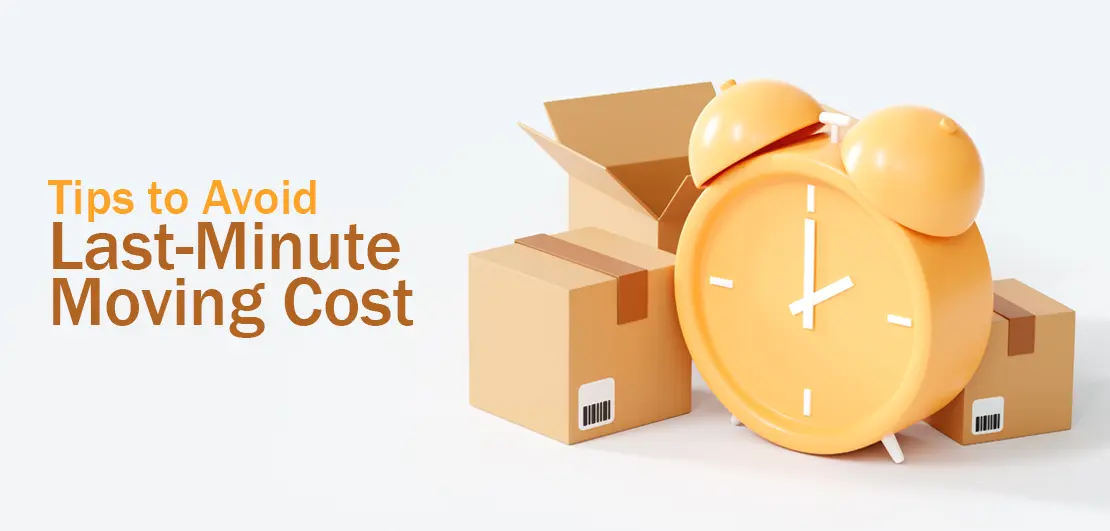 Moving is a life-changing event in one person's life and is considered one of the stressful events. To relocate somewhere, you have to leave your family, friends, and neighborhood. This requires high-level patience and a great amount of time to start a life in a new place from scratch. A long-distance move can be challenging in many ways it will affect your pocket and add emotional and physical stress. But if you find professional guidance, there are chances that you can avoid the costs that add up to your moving costs at the last minute.
If you have previous moving experience, you might be aware of the different last-minute costs of moving. But, if this is your first-time relocation, then it is advisable to be ready with a high amount of energy, patience, and of course money. We are here to help you, and we have listed a few tips to avoid last-minute moving costs.
Keep a bag of essentials
When you move, you did plan it in advance but sometimes missed out on the most important things that you will need just after moving into the new house. Several items are necessary for the first few days in your new home like- clothes, food, water, towels, blanket, medicines, toiletries, etc. This list can be longer if you are moving with children. This is generally called a bag of essentials carrying all the basic items of your need. But most people forget to pack this bag of essentials because of all the chaos of moving which could add extra cost to your budget. This is one of the last-minute moving costs you can avoid if you follow the moving checklist and pack your essentials separately. Pack this bag with other items and mark it for carrying with you. Don't let the movers load it in the moving truck.
Plan and organize your move
For a stress-free and relaxing move, it is essential to have proper planning and organization. A well-planned move will help you avoid last-minute moving costs. You might be wondering how it can be possible? So, here is the answer- if you plan a move with a moving planner and checklist, you can list all the tasks in a sequence. The moving planner and checklist will save you from any hassle at the last moment and save you from last-minute moving costs. You can download the available printable moving checklist at https://www.vanlinesmove.com/tools/moving-checklist. If you are planning to hire a moving company, they will do the packing for you. But if you want to pack your items yourself, you can take some tips and ideas for packing from our experts. These tips can make your move more organized.
Hire professional movers
Hiring a professional moving company for your long-distance move is one of the best ways to avoid any last-minute moving costs. A full-service moving company handles everything from
packing, loading, unloading, and transporting the belonging to the destination. They will save you from extra costs like hiring separate people for packing and loading-unloading. If your moving budget allows you, then we recommend you for hiring a professional full-service moving company. Hiring them will help you save extra expenses, time, and energy. You can take a breath of relief and enjoy your move.
Several people prefer to have a DIY move, and in such a scenario, you can hire local laborers for heavy lifting and pay them accordingly. You can take help from your family and friends and give them a treat as thanks.
Avail discounts
If you have decided to hire a professional moving company, then start researching the moving company after you decide. There are several moving companies serving on the routes you have to travel. Connect with them, collect their moving estimates, and compare and hire the best one. Though several movers are charging more than others, we recommend you to hire one with an average moving estimate. To reduce your moving costs, ask them for the available discounts. When you research the companies, you can find offers and discounts displayed on their websites. You can get better discounts during holidays and can help you save money.
All these tips are only for you. Try them when you plan your move and avoid all the unnecessary expenses. If you are looking for a professional moving company that can handle the full-service move, visit www.vanlinesmove.com right now.
Ready For your Move?
Start your booking
today and save
time and money!
Get Quote
Ready For your Move?
Start your booking today and save time and money!
Get Quote
Categories
Archives