Dress Code For Moving Day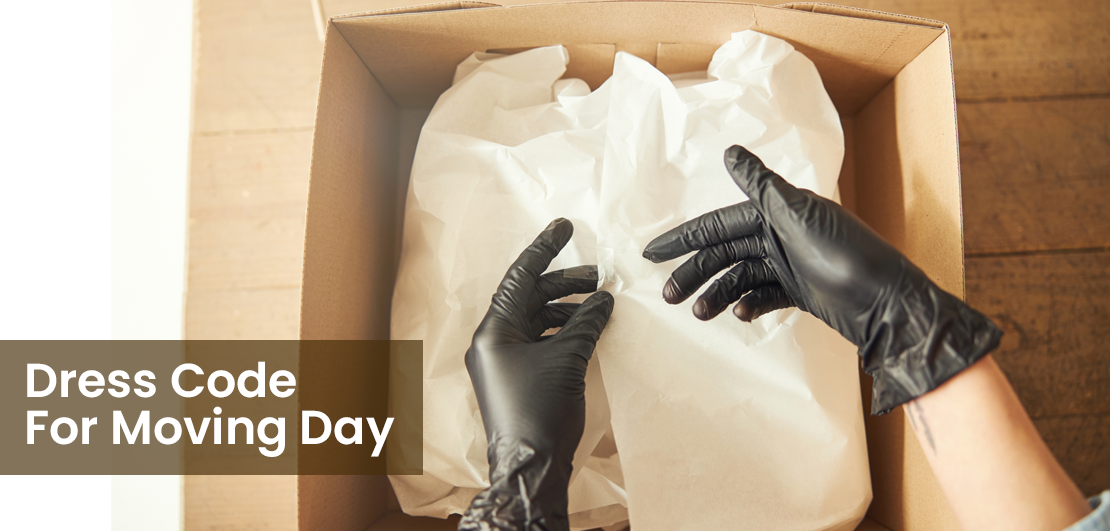 Moving day can be stressful in many ways, but it is essential to make it simple and relaxing. Helping hands in the move can make it simple. On a moving day, try to be comfortable, as you have to carry huge boxes and suitcases. The best way to feel comfortable is by wearing appropriate clothes that save you from the risks of moving and provide relaxation. There should be a dress code for moving day, and here we have listed some tips for what to wear on a moving day.
Clothes
Comfortable Clothes- Some people prefer to wear jeans and a t-shirt during the move while some prefer to wear their workout outfits. It doesn't matter what dress you pick for your moving day; the only thing that matters is that it should be comfortable. If you are doing moving activities by yourself, you should choose stretchable pants which do not restrict body movements. Choose a pair of clothes you don't mind getting torn out or damaged during the move.
Breathable close-fitting clothes
Pick clothes that are close fitting as baggy clothes can stick anywhere and increase the chance of injury. In case if you are wearing a shirt or some dress with an open-end, make sure they are buttoned or sipped to avoid risk. Clothes are even close-fitting but should be breathable. If you are moving in summer, your clothes will avoid overheating or sweating.
Dress according to weather
The type of clothes you wear on moving day depends on the weather. It is better to wear light clothes for a summer move while layers of clothes for a winter move. Light cloth must be of close-fitting like mentioned earlier. For a winter move, avoid wearing too many clothes as it may restrict your body movement. Choose your clothes wisely for different types of weather.
Shoes
Fully-Closed Comfortable Shoes
For your moving day, select the most comfortable pair of shoes you have. As relocation days can be long and tiring, you should wear shoes that do not hurt you even after long hours of wearing them. And shoes you choose should have closed-toe to avoid injuring the feet. Sandals, crocs, or flip-flops should not be to wear on a moving day. The best selection of shoes for fully-closed comfortable shoes are either working boots or sport shoes.
Good Traction and Ankle Support Shoes
Selecting the right pair of shoes will protect you from different injuries like- closed-toe shoes will protect shoes. Also, if your shoes have good traction, it will minimize the risk of slipping or skidding. On a rainy moving day or snowy moving day, anti-slip shoes are the best choice. Additional safety can be added to your feet while moving with a pair of shoes with good ankle support. Sports shoes are still the best choice as they have good traction and ankle support.
Gloves
Protecting your hands while moving is equally important, but mostly we forget about this. Throughout the moving, you have to carry heavy boxes, furniture, and sharp edge items, and a pair of gloves will provide you with high-level protection. Gloves will avoid cuts and scratches on your hands while lifting and carrying belongings. If you are moving in summer, gloves will not allow sweating on your hands and enhance the grip. On the other hand, during a winter move, a good pair of gloves will provide you with warmth from chilly weather. Select a pair of gloves made of leather or canvas as they will allow maximum movement of your hands without slipping off from your hands.
There are no fixed guidelines for what you have to wear on a moving day. But selecting your clothes wisely for a move will provide you comfort and protection throughout the moving.
Ready For your Move?
Start your booking
today and save
time and money!
Get Quote
Ready For your Move?
Start your booking today and save time and money!
Get Quote
Categories
Archives