Eco-Friendly Long-Distance Move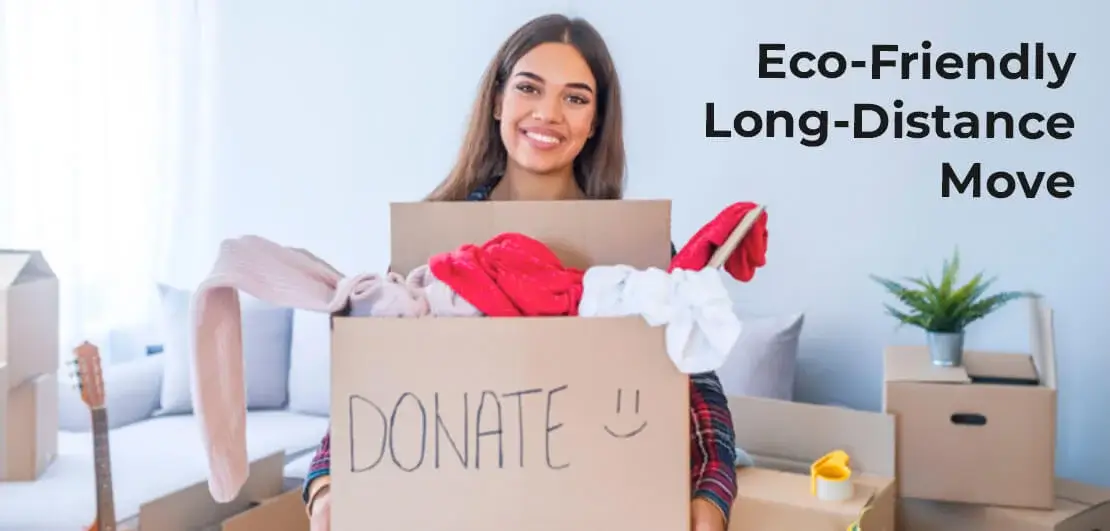 Moving is generally not an environment-friendly process as the movers accumulate a large amount of trash and waste and excessive driving. Each move makes an impact on the environment. We can reduce the wastage during the relocation by focusing on green moving and planning ahead of the moving day. Plan your move with some eco-friendly tips that will not only reduce the waste but also minimizes your moving cost.
Use the containers you already have
You receive cardboard boxes throughout the year as parcel boxes. You can save those boxes and use them for packing your stuff while moving. If you have sufficient boxes for all your belongings, you can ask your moving company not to bring any boxes. Other than these, there are containers in the house that you can use for packing like plastic bins, duffle bags, suitcases, dresser drawers, grocery totes, and plastic bags. Kitchen boxes can fit large boxes and also avoid spillage during the move.
Use household items as packing material
Other than cardboard boxes, you can use your linens, towels, and blankets for wrapping fragile items. You can wrap your crockery in towels and then pack them in boxes. Wine glasses, mugs, and tumblers can damage during the move. You can put them in winter socks and pack them in containers. All these linens work as a cushion for fragile items and reduce the cost of bubble wraps and other safety packing materials.
Donate or recycle whatever you don't need
Many items in the house are of no use to you. You can donate, sell or recycle these items. Before start packing your kitchen and other belongings, separate the belonging that you no longer need. There are many local organizations where you can donate clothes, furniture, and other items. You can arrange garage sales and sell out your belongings at a reasonable price. You can contact local recycling units to give all your items for recycling like boxes, plastic wares, and more.
Buy eco-friendly packing supplies
You can make your move sustainable by purchasing bio-degradable packing supplies instead of traditional packing supplies. Check out various biodegradable packing materials at different shops. You can buy wrapping material made up of cornstarch and potato starch instead of using Styrofoam. Use household items like clothes, linen, and towel is also an option for eco-friendly packing.
Hire a green moving company for your move
If you plan to move with a moving company, then look out for green moving companies. These companies use biodiesel fuel over gasoline to minimize the pollution level. Long-distance moving companies generally move in one go. For local moving, try to make fewer trips back and forth to reduce emissions. Search moving companies for your long-distance move with Van Lines Move online for free. They offer moving quotes from professional moving companies who move you with sustainability.
Moving with companies that offer green moving is better than traditional moving. Hire a moving company that offers full service moving, as this will reduce wastage and minimize your moving cost. Plan your move ahead of your move with a moving planner and enjoy a green move.
Ready For your Move?
Start your booking
today and save
time and money!
Get Quote
Ready For your Move?
Start your booking today and save time and money!
Get Quote
Categories
Archives