Renting a Moving Truck? Check out the Pros and Cons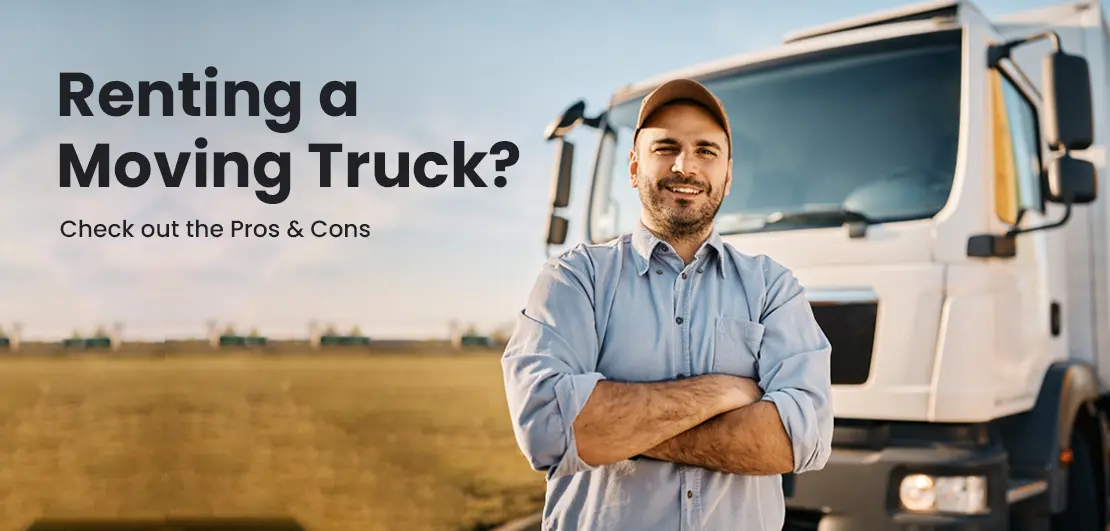 Have you decided to move on your own? If yes, it is better to start preparing for the move as early as possible. Start your DIY move preparations by renting a moving truck, ordering packing and moving supplies, and asking your friends & family to lend a hand while loading.
Renting a truck for your move is convenient, cost-effective, and adds flexibility to your relocation. But there are several challenges that you may encounter when you execute the DIY move with a rental truck. In this article, we will discuss both Pros and Cons of renting a truck for a move. Let check out-
Renting a Moving Truck- Pros
· Complete control over your move
When you plan to move by renting a truck, you are responsible for everything meaning you are the sole one in charge of your move. Everything depends on you, like when to start packing, who will load the packages, what supplies and equipment for moving are required, and deciding when to move. When you take care of your belongings, you are more confident and relaxed as you know the actual chances of any damage. You can also pick the best route for your move and halts according to your requirement.
· Flexibility in Time Management
When you rent a moving truck, you are free to manage the time and date of the move. This move is the best option in case you can't pick the moving date. If you rent a moving truck, you need not worry about every minute and hour of your move, as truck rental services are on a per-day basis. You can complete all other moving chores without stress and start moving when everything is ready. You are free from the thought of some other people coming at a particular time and doing everything in a jiffy. You can decide when to stop as you are in charge of time management.
· Cost efficient
The cost of renting a truck is lower than any other moving option. Since the average cost of renting a moving truck is between $150-$300 for a local move and $2000-$3000 for a cross-country move, it is lower than the overall cost of any other moving option. You can save on the
gas cost by choosing the shortest convenient route for the move and also minimize the number of stops.
· You can take your vehicle
Most moving companies do not allow vehicles like bikes and cars on their moving truck. But when you rent a moving truck, you are free to take your vehicle with you. Most rental trucks are equipped with a trailer to tow your vehicle, and you can carry it with you without any additional cost. Though towing a trailer can be difficult, with proper guidance, you can do it with perfection.
Renting a Moving Truck- Cons
· High fuel cost
When you decide to rent a truck instead of hiring a full-service moving company, it is better to keep all factors in mind. One of the factors to keep in mind is the cost of gas, as the rates are higher these days. If you are planning a local or short-distance move, the cost of gas might not affect you, but for a long-distance move, this is very costly.
· Availability of trucks
The availability of a moving truck for rent is a big issue. Though you can find multiple options for truck rentals on the date of your choice, it is not guaranteed to be a budget-friendly option. If you decide to move on a weekend, it is difficult to find a good deal.
· More exhausting than assumed
Renting a truck for your move means you have to handle everything including- packing, loading, and unloading. In case, you hire a professional moving company. They will do everything for you. But you choose otherwise, and you have to put more effort both physically and mentally. You have to carry heavy items by yourself and stay calm throughout the process. You can ask your friends and family to help, but a few things require special equipment and tools.
· Require additional insurance
Professional moving companies offer insurance against any damage to your belongings. But when you rent a moving truck and decide to have a DIY move, only you are responsible for any
damage, loss, or theft. So, to ensure the safety and security of your belongings throughout the relocation, you need to purchase insurance.
Renting a truck has several advantages, but as you can see, this is not always a better option, especially when you are planning to move across the states. However, if you still wish to rent a moving truck for your move, do thorough research about the rental company. It is better to get everything settled before you get on the road.
Ready For your Move?
Start your booking
today and save
time and money!
Get Quote
Ready For your Move?
Start your booking today and save time and money!
Get Quote
Categories
Archives