Top 7 Question for Moving Companies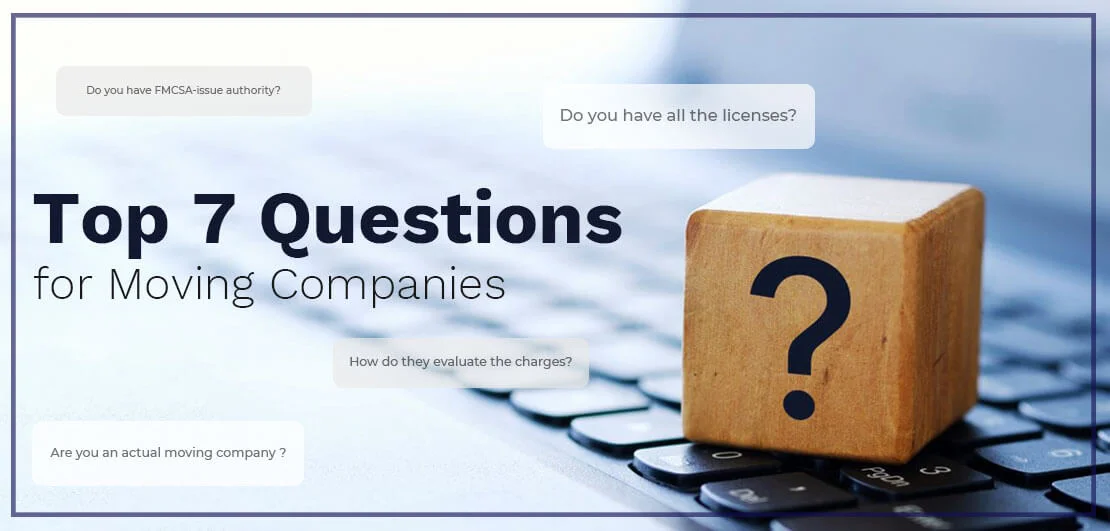 Hiring a moving company is an investment, and you should know whether your investment is worth it or not. There are so many questions in your mind about the moving companies. You should interview your moving company and ask as many questions as you can. But sometimes you can't decide which question is of high priority. So, we have listed some questions you should ask your moving company.
Do you have all the licenses?
The most important question you should ask your moving company, whether their moving company is properly licensed. The United States Department of Transportation issued a license number to all the interstate moving companies. But the local moving companies are regulated by the state government as they provide moving services within the state boundaries. So, local movers have state licenses and regulations, and license requirements are different for each state.
Do you have experience with my type of move?
The moving company you hire must have relevant experience in the moving services specific to your move. If you hire a moving company for a long-distance move, they should have expertise in packing items for the interstate journey. Likewise, if you are moving to a high-rise building with no elevator, then the moving company should have the right tools, moving equipment for loading and unloading the items. Multiple risks and conditions arise during the move, and the moving company should be ready for any hurdle like parking permissions, small doorways, slippery floors, etc.
Are you an actual moving company or a broker?
When you search for a moving company online, there are chances you find moving companies who are brokers or third-party offering moving quotes. So, get a confirmation before making any decision. If it's a broker, then the moving estimate you get from them might vary from the actual moving cost. Though some broker companies connect you with the mover, and you will get an accurate moving company. Finding a moving estimate directly from a moving company is better, but with Van Lines Move, you will get a moving quote prepared by qualified moving companies.
What kind of liabilities does your company provide?
Protecting your belongings during the relocation is the right thing to do. Before handing over your belongings to the moving company, ask them how they cover any mishap during the move. Professional moving companies offer multiple liability coverage plans for local as well as long-distance moves. Two types of liabilities most of the moving companies provide- Full Value Protection and Released Value Protection. If you have Full value protection, the moving company will replace damaged or lost belonging from the shipment. In released value protection, the moving company offers liability more not more than 60 cents per pound of an article. You
can buy moving insurance from a third-party insurance provider. And if your moving company is providing moving insurance, always ask for proof.
Do you have FMCSA-issue authority?
A federally-registered moving company offers licensed moving services. These moving companies are regulated according to law and have standard pricing and transportation according to the law. So, you should hire a moving company that has a federally issued license for secure and affordable moving.
How do they evaluate the charges for moving services?
Before you book a mover, always ask them about their base price, additional charges, and more. Local and long-distance moving cost varies on different factors. The cost of the long-distance move depends on the distance traveled and the weight of the shipment. Get a detailed description of all the charges and services that the moving company will cover during the move. Take a written contract and go through it properly before signing and booking the moving company.
What services are included or excluded in the moving estimate?
Once you receive the moving estimate and contract, start verifying all the details of your move and services included in it. If you get a moving quote over the phone or online, your mover might miss adding few things. Online moving estimates will not include charges for heavy lifting, elevator, storage, appliance installation/uninstallation, parking permissions, and more. We recommend you to ask your moving company to visit for proper inspection of the inventory and get an accurate moving estimate. In such a situation, you can avoid unexpected service charges.
Ask these questions and also add other questions in your mind to the moving professional during their visit. Ask them to give detailed information about everything included in the moving quote.
Get a free moving quote instantly with Van Lines Move and ask as many questions as us regarding your move.
Ready For your Move?
Start your booking
today and save
time and money!
Get Quote
Ready For your Move?
Start your booking today and save time and money!
Get Quote
Categories
Archives