10 Places to Find Free Moving Boxes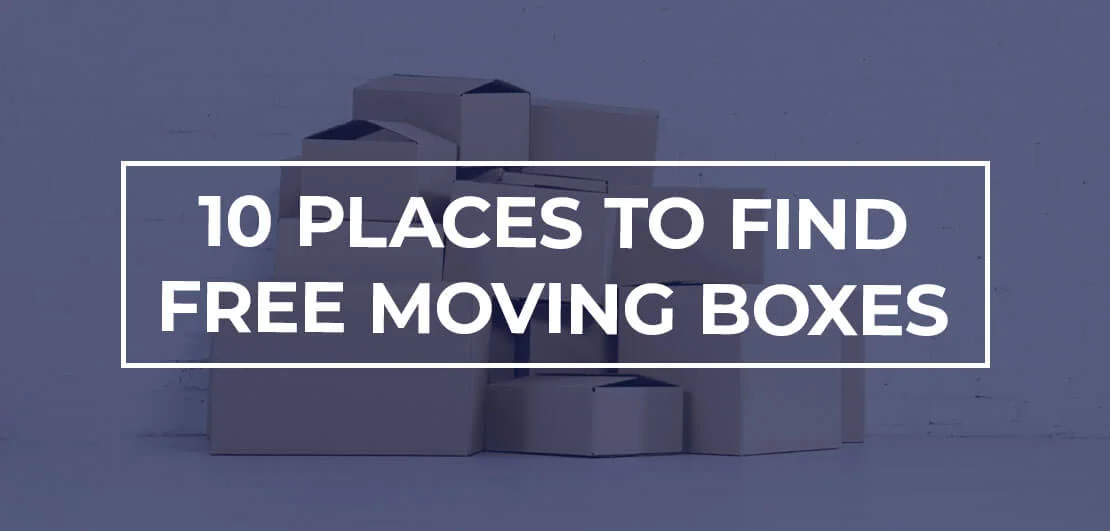 When we talk about moving, the first thing came to our mind is the number of moving boxes and other moving supplies you will need. You can calculate the number and cost of packing supplies with the help of the Packing Calculator. For packing, we need multiple moving boxes, and they add unnecessary costs to your move. We said it was "unnecessary" because you can get the moving boxes without cost from many places. If you get moving boxes for free, there will be a reduction in the moving estimate or moving price provided by your moving company.
There are many places where you can find moving boxes for free, like a nearby store, community groups, and online marketplaces. Only special boxes for packing mirrors and TV are not found easily in such places, with this exception you can move the rest of your belongings in free moving boxes. But the question is still there what are the places where you find free moving boxes.
Here, we have listed 10 places where you can find free moving boxes.
1. Friends and Family
The simplest way to find the empty boxes is by asking your friends and family. You can ask them if they recently got any deliveries or they possess any boxes from their moves. The easiest way to ask them is by calling, texting, or the trending way by just posting a status on social media. Create a post that you are looking for moving supplies in your social media handles.
2. Grocery Stores
Grocery stores receive their supplies in large or small boxes on a weekly or daily basis. So, they must have a pile of boxes lying in the back of their stores. So, when you go grocery shopping, inform the manager that you are moving soon. Ask them if they had any boxes, and we are sure that they will happily hand those boxes to you.
3. Large Retailers
Large retailers or "Big Box Stores" because they have a massive number of boxes in their stores. With shipment coming every day, you can find empty boxes at different stores- Walmart, Petsmart, Office Depot, Home Depot, K-Mart, Costco, and more. You can reach them and get these boxes for free.
4. Bookstores
If you need small size moving boxes, then bookstores are the perfect place. Local bookstores or large-chain bookstores; both have a sufficient number of moving boxes that can be useful for packing small items. These boxes can hold up great weight as they use to carry the weight of heavy books.
5. Craigslist
You can find everything online, then why not try moving boxes. Go on the Craigslist website; there is a "Free" section, where local people have listed belongings they no longer needed. You can search here if someone has listed moving boxes to give away. There is also an option to post your ad to let people know that you are looking for moving boxes.
U-Haul Box Exchange
People across the country are connecting on U-Haul Customer Connect Box Exchange to find all types of moving supplies. You have to enter your location and search for "moving boxes"; you will find someone here giving away the moving boxes.
6. Liquor Stores
If you live near a liquor store, you could ask the manager if they have supply boxes they want to give away. Liquor stores have empty cardboard containers that you can use as moving boxes. But they are small and sturdy. So, you can use them for packing books, CDs, and other small items.
7. Workplace
You can always ask the store manager in your office for some empty boxes. If lucky, you will find some clean boxes; if they don't have empty boxes, you can always ask them to keep some boxes aside when they got.
8. Recycling Points
Most of the cities have recycling points where people can drop off their cardboard boxes for recycling. At these points, you can find moving boxes in good condition of various sizes.
9. Freecycle
Like Craigslist, Freecycle is an online platform to find free stuff in your community. It is simple to find items on Freecycle; you only have to sign up for free and create a post that you are looking for free moving boxes. You will get good responses for sure.
These are some best and easy to reach places for finding free moving boxes. With these moving boxes, you can reduce your moving cost and invest that money in other things. You can plan your move with qualified moving companies in your area with Van Lines Move. Call us or visit our website and get free moving quotes.
Ready For your Move?
Start your booking
today and save
time and money!
Get Quote
Ready For your Move?
Start your booking today and save time and money!
Get Quote
Categories
Archives