Five things to do Before and After Move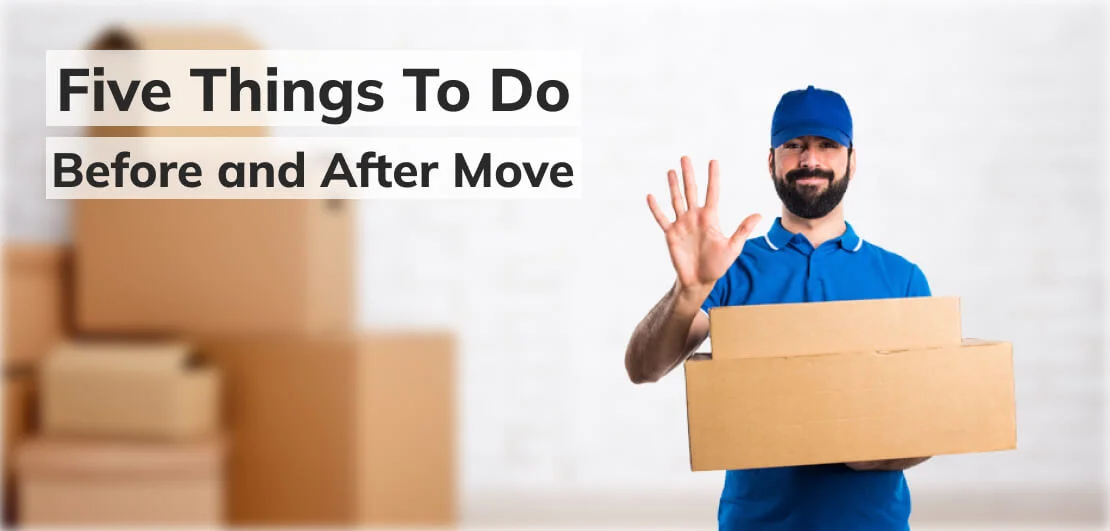 Moving is a multitasking process that makes you anxious, so to make it comfortable and relaxing do the following things before and just after your move.
Things to do before and just after your move
Arrange disposal or donation for unwanted items: Clean up the house starting from storage or garage. Gather all unwanted items like furniture, clothes, appliances, and other things that are of no use in your new house. You can donate or sell these items instead of disposing of them. You can arrange a garage sale, donate to charity or sell these items on eBay.
Transfer the utilities and uninstall appliances: All the appliances should be uninstalled one day before the move. You can do it yourself or can ask the moving company to do it but it would add additional fees to your bill. Also inform the service provider of the utilities like gas, cable, internet,etc. to close the connection or transfer it to your new address.
Transfer prescription and medical records: You need to find a new physician at the new location and meanwhile, you need to take care of your medical record and prescriptions. You can get a copy of your medical record and prescription from the Health Insurance Portability and Accountability Act (HIPAA).
Update address in Banks and insurance companies: Before your move contact the banks to either close your account or transfer the account to the updated address. You also need to contact your insurance provider for health insurance, home insurance, and vehicle insurance and do all the formalities required for the address change.
Plan the setup of the house: For a convenient move, you should prepare a plan with the moving direction of the boxes at the new house during loading and unloading. With such a plan, you can place the boxes in the rooms easily and can have an easy unpacking.Things to do just after you move-
Clean the house before unpacking: It may be possible that the last resident may have already clean the house, but it would be better to take a quick sweep for dust.
Take inventory check just after unloading: Once all the boxes and packages are unloaded at the new house you must take a check for the inventory with the list. This will help you ensure that no package is missing and you can easily sort the boxes to be opened first.
Set up security at the new house: Home security is essential as it provides peace of mind.So, as soon as you reach your new home call the security company to set up and activate the equipment.
Set up the refrigerator and plug it in: Once you set up your refrigerator plug it in to ensure it is working properly. It is the first appliance required to store water and food. Not only this you should plug in all the appliances to check whether they are working properly.
Activate home utilities at the earliest: Once you reach your new home you need a power supply, water, electricity, and gas to start up your life. Contact the utility providers in the region for quick assistance and immediate activation.
Ready For your Move?
Start your booking
today and save
time and money!
Get Quote
Ready For your Move?
Start your booking today and save time and money!
Get Quote
Categories
Archives