Local or Long-Distance Move- Differences to compare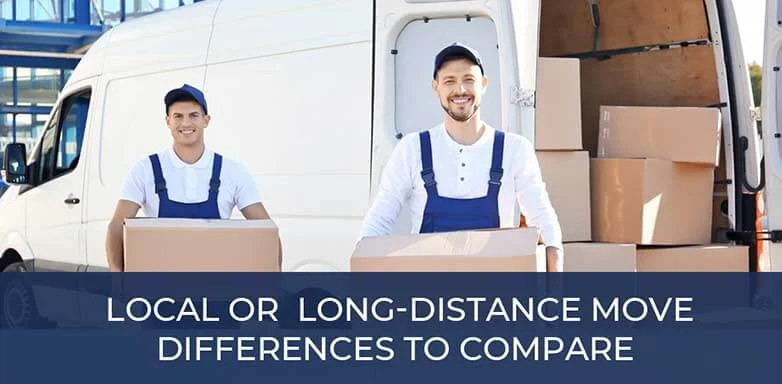 Moving can be a long tiring process both physically and mentally. It does not matter if you are moving across the street or to another part of the state. Moving means packing the entire house, transport it to a new location, and then unpack and resettle over there. Both types of moves require intense preparations, different types of moving companies, and more.
If you are moving your house within the state boundaries, then the move is considered a local move or regional move. While moving from coast to coast or interstate or from state to state is termed a long-distance move
Distance is the prime factor that creates a difference between local and long-distance moves. But the two moves are entirely different from each other depending on certain other factors. For either of the move, you have to prepare differently, pack differently and hire experts. Various factors make local and long-distance moves different from one another irrespective of the distance traveled
Preparations
Preparing for a local move is entirely different from that for a long-distance move. Local moves are easy to organize, as you have knowledge of the localities and moving companies are known to you. While for a long-distance move you have found a place to live in new state, schools and other amenities in advance. That might take more time as well as research.
Packing
Packing is one major factor that makes local and long-distance moves different. Some people believe that there is no difference in packing for any of the moves: though it is incorrect. When moving locally, you can pack all the stuff in boxes and carry them to the new location within a couple of hours. While for a long-distance move, your belongings need to be packed with specific packing materials to avoid any damage during long travels from weather or more. Certain items need to be packed differently for a long-distance move, like plants. During a long-distance move, to make sure no damage to belongings, plastic wraps, and temperature-controlled boxes are required
Cost
Moving is expensive though the cost may vary when you do it by yourself or hire a professional. But moving is expensive. Local moving is less costly, due to the short distance and relocation can be planned during weekdays. A long-distance move is expensive in different terms like distance and schedule that is difficult to change. Hire a professional moving company to have a trouble-free affordable move.
Moving Companies
For both types of moves, different companies make moving simple. Moving Tools, packing supplies, and a truck- required for any moving. For a local move, you will need professionals for packing and moving with desired tools and trucks. But for an interstate move, you have to hire a moving company with a license to move across the state lines. Without a valid license, one cannot drive across the state lines but can move within the state.
Now, you know all the difference between local and long-distance moving. So, don't take stress for either of the moves and hire a professional from Vanlines Move. We will collect your moving information, prepare an affordable moving quote and make your local or long-distance move simple.
Categories
Recent posts
Archives