Guide for Tipping Your Mover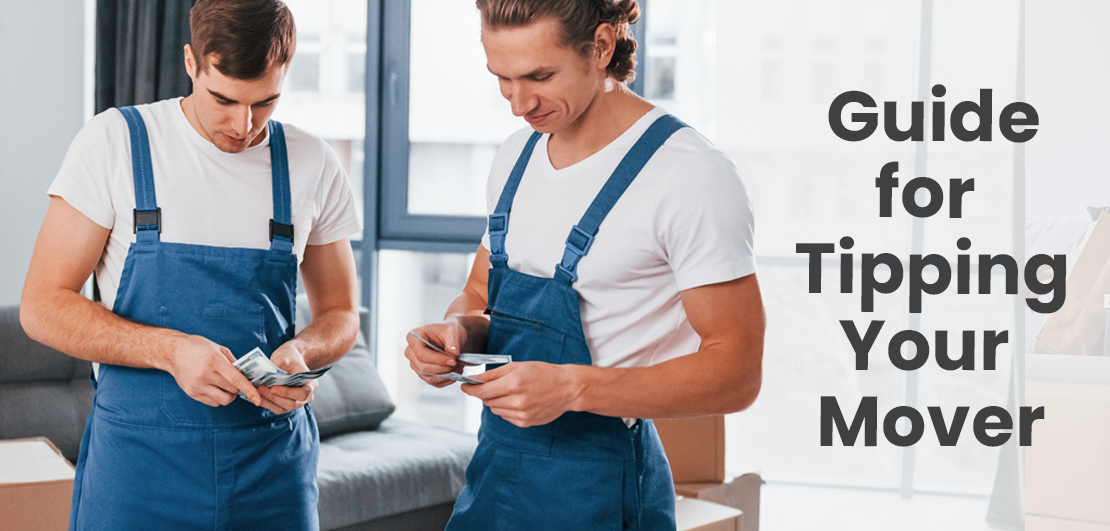 A professional mover makes your move easy and stress-free so that you can focus on other things while relocating. They do everything you asked them like packing, loading, unloading, transporting, unpacking, etc. The moving company will relocate you with all the comfort, and then you may wonder how to show your appreciation towards them.
Sometimes, the question is whether it is okay to show any appreciation or tip the mover? Yes, it is okay to tip your moving company. Tipping is not necessary. If your mover has made your move less stressful and you want to appreciate them, you can acknowledge them with tips.
How much do people tip their mover?
As moving is not a frequent process like going to a restaurant, so it might not be easy to decide the right amount to pay as a tip. Most people tip their mover based on the flat moving rate or a percentage of the overall moving cost. Generally, it is a rule to pay about 5-10% of the total moving cost or $4-5 per hour per mover. You are free to decide the tipping amount as it's your way of appreciating the moving professionals for their hard work to make your move easy.
Different factors to consider while evaluating tips for the mover
If you are planning to tip your mover and need some deciding factors to calculate the right amount of tip, then read out the section below-
· Weather Conditions
Weather can affect your move badly as it is difficult to move while it is raining, snow on the floor, or extreme heat. But when your mover did a great job under such drastic weather conditions and secure your belongings from any damage, you may consider giving them a tip.
· If they provide packing service
Several moving companies offer full-service moving like packing along with the moving. In such a case, packers play an important role other than movers. So do not forget to tip the packers. They ensure the safety of all your fragile and delicate items that may damage while moving. Their efforts are different from the movers, but they deserve appreciation for their work.
· Total hours they work on-site for you
When you move a 3 BHK property, an average moving time is 7-10 hours. If your move takes longer than the estimated time and your movers are still working on-site, you can consider them for a tip. But a tip is only considered if the movers are putting their effort into making your move relaxing. If your move delays because the movers are not working efficiently or slowly, you are not obliged to tip them.
· How do they carry items- by stairs or elevator?
Moving the belongings through an elevator is simpler. But, if your mover has to carry heavy items through stairs, this will require extra muscle strength. If your mover is making trips through stairs to save you from carrying heavy items via stairs, then you should consider them for tipping.
· Number of oversized items in your inventory
Oversized items cannot be loaded or unloaded via lift and should carry manually. If you have to haul these things yourself, you might get exhausted after one or two trips. But the movers make multiple trips and transport all those oversized items for you. Appreciate them for their hard work and efforts.
· How do they organize everything?
An organized move is a dream come true. If your mover packs the boxes and labels them accurately, it will be easy for you to unpack and settle in your new home. Your mover makes your process simple by labeling and organizing the items.
Should I tip my mover based on the type of move or my property size?
Tip for your mover depends on the type of move, either local move or long-distance move. For large property sizes like double stories or a villa, the movers may have to make multiple trips and spend extra hours to complete the relocation. In such scenarios, your mover deserves a huge tip. So, it is better to tip your mover according to the flat rate of the move.
When should your mover get a tip?
During Cross-Country Move- When you are moving cross-country, different people in the crew perform specific tasks. Like packers at your old house, crew for unloading at the new house, and moving crew transporting your item. You have to tip them separately based on the items they handle.
During Local Move- While you have a local move, tip your mover anytime. Most people prefer to tip their mover before starting the moving process to motivate them. You can also tip your mover after the move, and you can also provide them food and drink as refreshment.
Giving cash-tip and snacks to the movers as rewards is a great way of appreciation. You can hire a professional mover to make your move simple and efficient. Connect with your mover instantly with free moving estimates online with Van Lines Move.
Ready For your Move?
Start your booking
today and save
time and money!
Get Quote
Ready For your Move?
Start your booking today and save time and money!
Get Quote
Categories
Archives