How to Find Best Professional Movers in Your Area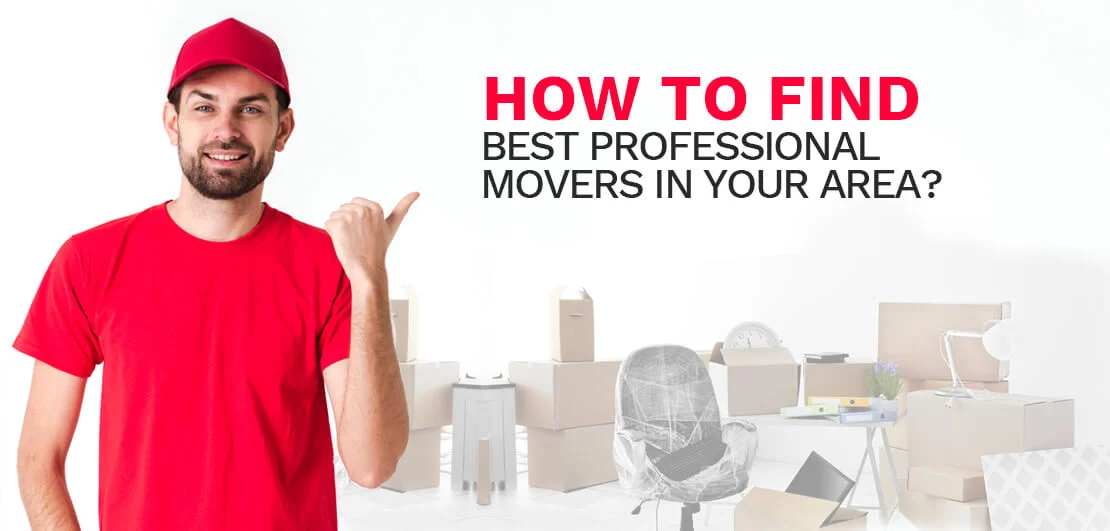 When you decide to move across the state with a professional moving company, you need detailed research to choose the best one. We can help you find the right moving professional for your upcoming move with some guidance and tips.
Finding a perfect mover in your area is a tedious task, and it will be the most of the amount you put into your move. A professional moving company is worth every investment as it will simplify and organize all relocation processes, whether local or long-distance. Now, the question is which moving company is best in my area for my moving needs.
What type of move- Local or Long-Distance?
The first thing you need to do before researching moving companies, deciding what type of move you are planning. When you finalize the type of move, you can start doing research. For a local move, you have to move within the city or state boundaries. Research all the moving companies in your area willing to relocate you within 100 miles of distance from your home. In a long-distance move, the total miles covered will be more than 100 miles. You will need a moving company with a nationwide moving license.
Local moving is simple, requires less time, easy packing, and relocation will complete within a morning or afternoon. Long-distance moves are different as they take longer hours for transporting goods, you need special packing for the fragile items, and in some cases, you might need multiple logistics to reach the destination. Deciding which of the two moves you will have can help you find the right moving company within your budget.
What to know about the right professional movers?
So, once your decision is made about your local or long-distance move. Now, it is time to start looking for individual moving companies that will meet your moving requirements. Here are few things you should know about a perfect professional moving company in your area.
Research multiple moving companies
When you list out the moving companies, you need to do some background research. Learn about their work experience and how long they have been in business. Try to gather as much information about the company it will ease up the selection process.
Moving services, you need
You have some ideas about how to accomplish your move. List out the services you need for your move, like packing, loading, unloading, and transporting. You might need some extra services like storage units, PODs, disassembling, and installation of appliances. For such services, you need to research all the moving companies specifically.
List out the inventories
Creating a list of all the items you plan to take to your new home is necessary. Most of the moving companies generate their moving estimates based on the total weight of the shipment. Prepare inventory, separate the items you want to donate, sell or throw away.
Check online testimonials
Learning about the company from their previous clients is better than asking from people who only heard about the company. Most companies have their online reviews on different platforms. This can help you fairly narrowing down your list.
License status of movers
Whether moving locally or out of state, always ask about the licenses of the moving company. If a moving company has the license and permits from the government, it means their paperwork is in order. Moving companies with complete licensed status have legitimate business and no chances of scams.
Ask for moving quotes
Ask the moving company about a detailed moving quote according to your moving requirements. They will give you quotes generated on different factors like moving services, miles covered, extra service charges, taxes, and insurance. Don't be afraid with figures as these quotes are inclusive of different costs.
Taxes and fees
When you move across the state or cities, you have to pay some local and state taxes during the move. Some moving companies miss out on some fees from the moving quotes. Ask moving companies to give you all the details about the taxes and fees added during the money. Also, ask them for the charges for any additional service you require during the move.
Moving Insurance
Moving insurance is a must during a move to compensate your belongings during an accident or damage. Some moving companies provide moving insurance, while some do not. You can buy moving insurance from any insurance company.
You get all the details about the moving companies you select. Choose the best one in your area. It's time to schedule your move and let the professional movers handle everything. You can hire a professional moving company with Vanlines Move. All the movers are professional, licensed, and offer affordable moving rates.
Categories
Recent posts
Archives