Moving With Pets? Be Ready With These Moving Tips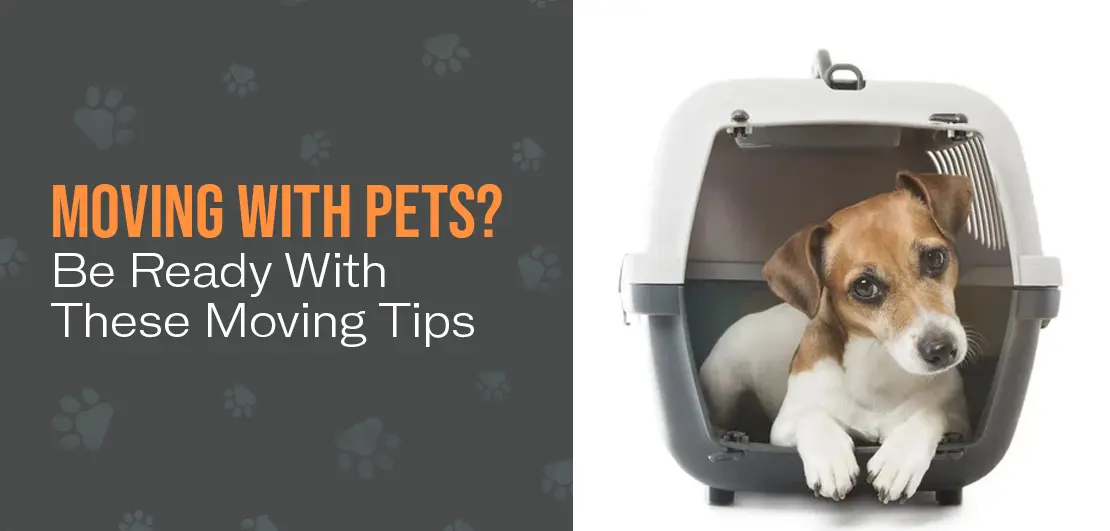 As we all know, moving can be tiring and emotionally difficult for everyone, and so it is difficult for pets. They are also affected by the sudden changes in their lives and new environment. But with certain precautions and tips, we can make this transition easy for them. Here in this article, we have listed a few moving and packing tips to make moving easy and safe for pets. Get your pets ready for the big change, and don't worry about them.
Pick a pet-friendly neighborhood & home
When you find your home make sure that the neighborhood and home you choose is pet friendly. There must be proper space for them to play and walk. When you pick your dream home, make sure about the rules and laws of the neighborhood. Also, look out for aggressive dogs on the street to ensure your pet's safety.
Pack up an overnight kit
Just like the first-day survival kit for your move, you should pack an overnight survival kit for your pet. This kit must have pet food, toys, grooming tools, and other things that make them feel comfortable during the first few days in the new house.
Keep your pets away from the packing & moving area
Moving means changes that can result in a stressful environment for you and your pet. It is better to keep them away from the packing area. You can leave them in their kennel in an empty room or garage. Also, make sure they are comfortable with the environment like temperature. They must not feel lonely or excluded, so talk to them whenever possible. Do not break the routine at once, as it can affect them. So, take them for a walk, feed them, and talk to them as you usually do, even during the transition.
If you train your pet for the change, it might help them in adjusting to the new environment easily.
Provide them with secluded space
A house full of boxes and strange people can make your pet anxious. So, always schedule your pet relocation after you relocate the house. Set up the place as much as possible and create enough space for the pet. To let your pet adjust to the new house, first make them comfortable in a confined space in a particular room. Try to keep everything routine and make them feel at home.
Visit your vet before the relocation
If you are moving out of state or city, it is better to visit your vet. Inform them about the relocation and take the pet's medical records and medications. Also, take their suggestions for the pet to settle down in the new neighborhood. Take recommendations for a new vet in your neighborhood for later consultation.
Learn about the pet laws in new city/state
New city, new rules! When you move into a new city, try to get familiar with the new laws about pets like tying them with a leash, walking areas, defecating areas, and more. In apartments, pet laws are different for pets, and you need to include and mention the pet in your lease document. If your pet has a microchip or tag, then update these before you arrive in the new state or city.
Book a pet moving service
As mentioned, you must plan a pet moving service once you settle in your new home. By that time, be assured your pet is in safe hands and is living in pet-friendly accommodation. Hire a professional moving company, and safely relocate your pet. They ensure that the pet is well-fed and comfortable with its new environment.
Pet-proof your new home
Before your pet arrives in your new home, make sure the place is safe for them. Make your new house Pet-proof to avoid any unexpected hazards. Cover the balcony railing to ensure your pet cannot squeeze or jump over. Secure all the screens, gates, doors, and windows. Cover all the vents and escape routes. Keep away any poisonous plants or substances in the house to keep your pet safe. Keep your place clutter free so that pets have enough space and lesser chances to get harmed.
Make pets friendly with new home
Once your pet arrived at the new place, it is time to introduce them to their new home and neighborhood. Start the process slowly, and make them familiar with the house step by step. Take them for a walk throughout the home, and let them see and sniff everything to get used to it. Keep their routine intact and stay with them for a longer time for the first week of their arrival. Interact with them and give them proper attention.
If you plan your relocation with a pet, you can leave their relocation to the experts. Connect with Van Lines Move- we will move your house from one state to another and your pet as well.
Ready For your Move?
Start your booking
today and save
time and money!
Get Quote
Ready For your Move?
Start your booking today and save time and money!
Get Quote
Categories
Archives