Tips To Make Your Move Safe And Secure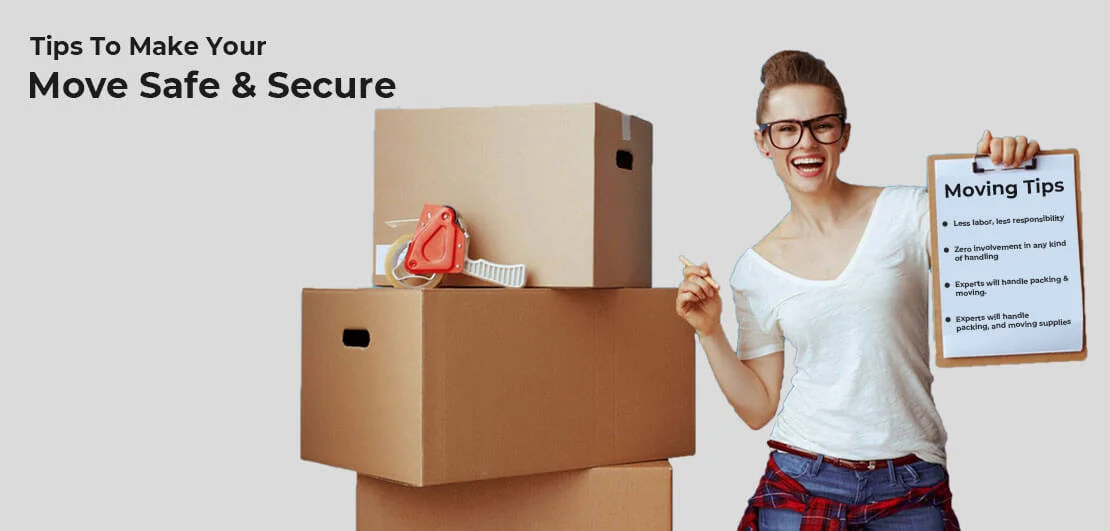 Moving can be dangerous as different actions might cause injuries. Throughout a move, you have to work with sharp knives and sometimes have to carry heavy items. So to avoid any harm, you must take some precautionary measures. Chances of injury are high when your move type is do-it-yourself, where you have to protect yourself along with your belongings.
During a move, risks are at various stages like cuts during packing, muscle injuries during loading and unloading, and damage items during transit.
Some moving tips to be remembered while moving-
• Avoid overpacking as an excessive amount of weight of items in certain packing boxes might break them and cause damage to the belongings.
• Always pack sharp things like knives, gardening tools, and grilling rods by wrapping them with clothes or towels to prevent any cut.
• Decide the lifting process for heavy appliances and large furniture in advance to avoid any damage and injury.
• Only carry the weight suitable for your body as excess weight can cause muscle or bone injuries, or your body can bear the load.
• The day of your move is highly tiring. So to avoid injury to muscles with tightness or stiffness so, do stretching from time to time.
• Make way for easy walking and movement as obstacles may hinder your path and make you clumsy.
• To avoid any muscle injury while carrying heavy belongings, you can use a dolly that helps in easy movement.
• Take a deep sleep before the night of move as exhaustion might cause an accident.
• On moving day, you need excessive strength for a DIY move or even giving directions to the moving company. So, stay hydrated and keep your tummy full.
• Keep kids and pets away from moving places and make some arrangements in advance.
• Wear comfortable clothes as moving can be tiring and sweaty.
• To avoid expense on the damage of your belongings during transit, you can get moving insurance from an insurance provider.
These moving tips can help you out in moving safely without any damage to your body or your belongings. If you are moving soon and want it to be risk-free, then hire a full-service moving company. Van Lines Move can get you the best moving companies for long-distance and local risk-free moves. Get a moving quote for a safe & secure move now at www.valinesmove.com.
To know how does moving insurance can make your move safe, visit the link- https://www.vanlinesmove.com/moving-insurance.
Ready For your Move?
Start your booking
today and save
time and money!
Get Quote
Ready For your Move?
Start your booking today and save time and money!
Get Quote
Categories
Archives