Tips to Move During A Snowstorm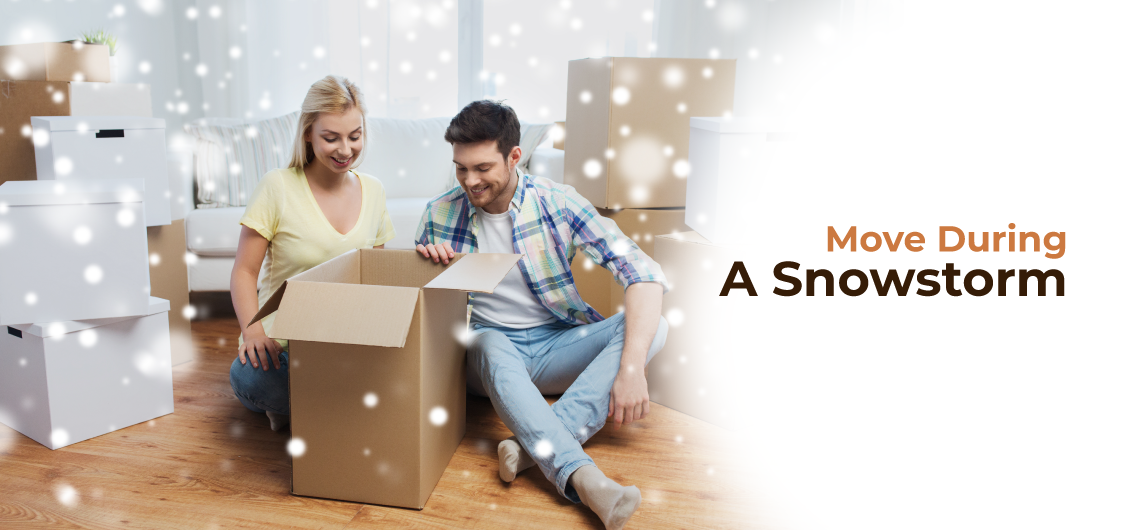 While planning your move, you consider various things except for the weather. Bad weather can spoil a perfectly planned relocation. The condition is worse when you have to move during the blizzard and do not have an option to reschedule or postpone the move. During these circumstances, you need to take measures to avoid damage to your family, health, and belongings. That's why it is better to be ready for the worst-case scenario on a moving day. We have listed some tips that will come in handy during such an event.
Check Weather Updates
When your moving date finalizes, you should start preparing with handy moving checklists and moving planners. Start preparing your house, belongings, and other to-do-list tasks, but you forget about the weather. So, to avoid the damage caused due to the weather, you should check the weather updates regularly. With these weather reports, you can get an update about the snow or rain on a moving day. Prepare according to the weather reports and avoid the damage and risks.
Get Winter Supplies Ready
During winters, finding a mover is easy. And you can get the lowest moving prices even from the top-rated movers. But during a winter move, you need to prepare for many things like clothes, house, and utility. As you are moving during the snowstorm, get ready with shovels, ice scrapers, gloves, hats, trench coats, and salt. These things are available in the house, so when you pack, declutter the items and get your winter supplies ready for the moving day.
Dress in layers
To avoid the freezing cold, dress in layers. If you plan a DIY move, it is better to dress accordingly, like wearing clothes in layers, shoes safe during snow, and gloves. And you can also prepare hot beverages like hot chocolate, coffee, or tea and stock up in a thermos. Stay warm and hydrated throughout the snowy move.
Safety at the top
Safety during the move is a prime objective irrespective of the weather. Moving during the snowstorm requires more safety for the house, belongings, and family. The first task is to remove the snow around the house to make a clear path for movers to load the belongings. The next thing is to avoid slipping, and for that, you can place sand or salt on the road. Moisture or wet shoes can damage the floor and carpet and save them by placing protective sheets, cardboard boxes, or blankets. If you are moving with kids, you can ask your friends or family to look after them. Or you can hire a babysitter to look after them. And finally, check all the utility facilities at your new home so that you can make the place warm at the earliest after arrival.
Secure your belongings
As you are moving in a snowstorm, there is a risk of damaging belongings. Moisture can damage the box and the items inside it. Avoid water or moisture entering the moving boxes by adding extra layers of padding on the corners of the boxes and making sure that the surface is dry. Plastic sheets and wraps
can prevent the moving boxes from any damage by water or snow. Also, check the moving truck for any holes or crack in the roof to avoid leakage.
Prepare an emergency kit
Prepare your emergency kit containing various items you might need after the move. Keep an extra pair of clothes and shoes, as you change if you get wet. The next thing in the kit is medicines with all your necessary medications (if any) and a first aid kit. Prepare some sandwiches and a hot beverage to keep you full and warm. Keep this emergency kit with you in your moving vehicle.
With all the given moving, packing, and safety tips, you can handle a move during a snowstorm. You can avoid possible injuries and damage due to the bad weather. We hope you will have an easy and calm relocation with these moving tips during a snowstorm. If you have decided to move and want to avoid the stress of the move during such weather, hire a moving company. Get instant moving estimates with the best moving rates at www.vanlinesmove.com.
Ready For your Move?
Start your booking
today and save
time and money!
Get Quote
Ready For your Move?
Start your booking today and save time and money!
Get Quote
Categories
Archives