Ultimate Moving Checklist for Families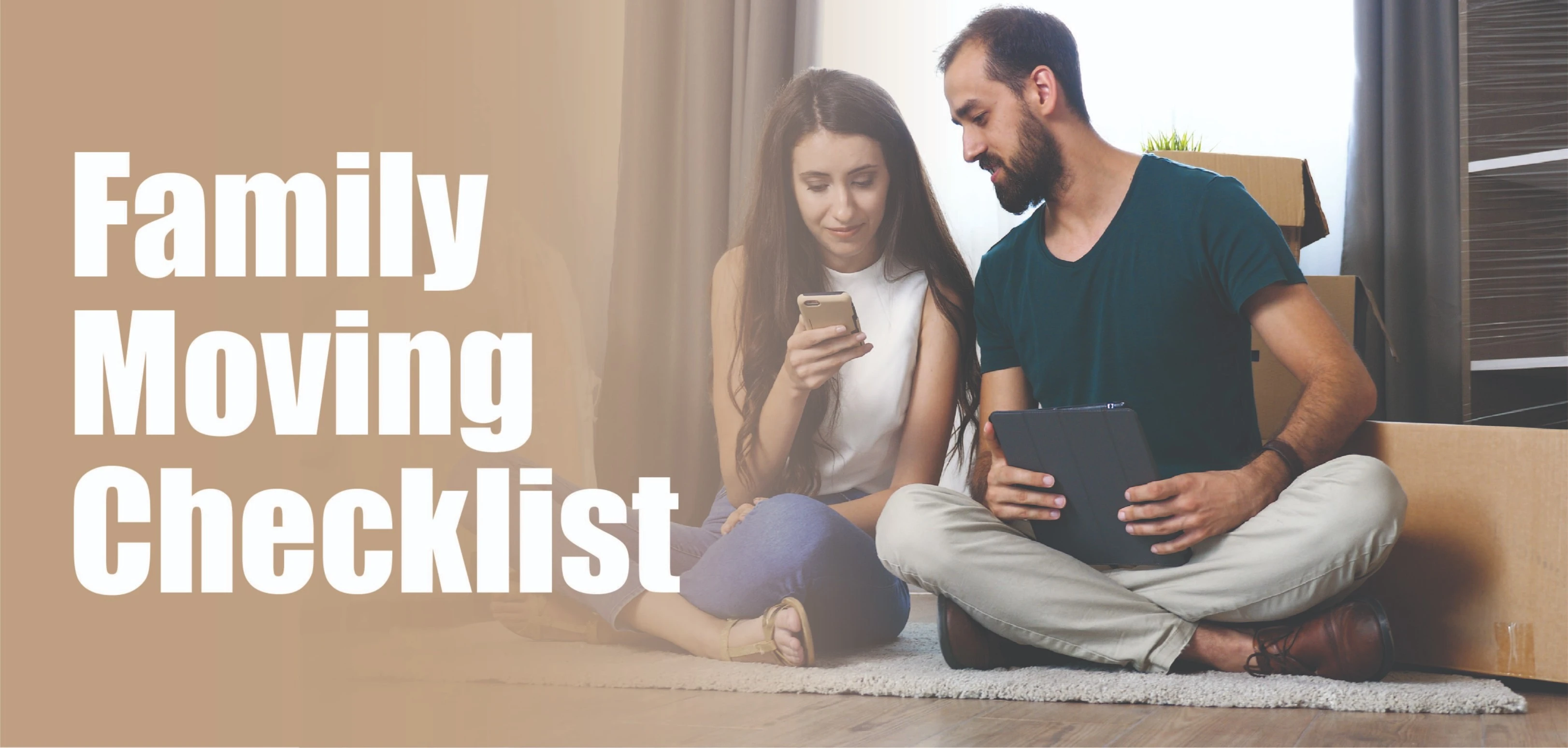 Moving into a new house is exciting but requires a lot of planning and focus. If you are moving with kids, you should be more careful while packing, loading-unloading, and other stages of moving. Moving can be emotionally difficult for the kids as they have to leave their homes and friends. When you relocate with your family, you can involve everyone in the planning. For this, you can get a moving checklist.
A family moving checklist is highly effective in planning and executing an out-of-state relocation process with the family. The relocation timeline for a family starts four weeks before moving day. During this period, you can plan your move, distribute tasks among family members and focus on everything in detail to avoid any moving mistakes. So, are you ready for a family-specific moving checklist?
Prepare your moving checklist in advance so you can add more things to the list at the last moment. If you divide your moving checklist into different categories, it will be easy for you to manage the move and focus on even the tiniest detail of the relocation. Start categorizing your moving checklist into the following categories- Packing, Cleaning, Admin, and Timeline.
Start looking for Full-Service Movers
The first and most important task for a successful and relaxing move for a family is hiring a full-service moving company. Once your move date is final, begin your search for moving companies and ask them for a moving quote. Collect multiple moving quotes and compare them before booking any mover. This should be the first task on your family moving checklist, and you will get sufficient time to research the mover.
Packing is a priority in Home Moving
The next thing on your family moving checklist is packing. You can start packing at least four weeks before your move. While packing, involve your kids so they won't feel left out. You can ask them to declutter their belongings and pack their room. They can decide what they want to take and you can finally check everything. The best way to sort things is to see whether you have used that item in the last six months. If any item is not of your use, donate or sell them. Pack everything in separate boxes and label them to avoid any confusion. You can use market-bought
packing material and household items for packing like waste boxes, suitcases, bags, towels, and rugs for wrapping, etc.
Inform your contacts about your Home Moving
The next task in your family moving checklist is informing all your contacts about your move. Start this task by contacting and informing utility providers, cable providers, medical providers, schools, banks, insurance companies, clubs, gyms, and other places you hold membership. Visit your doctor, ask them to transfer medical records if required, and get your prescription refilled. If you are moving within the same city and can transfer the utility services, you can start the transfer process. For a state-to-state relocation, terminate all utility services to avoid extra payments.
Arrange for Childcare and pet moving services
If you want to prevent your kids from any injury on a moving day, hire a daycare service. If you have family around, they can watch your kids for the day. If you have to move plants and pets to a new location, hire pet moving and plant moving services, as most moving companies do not allow pets and plants on moving vans or trucks.
Checklist for Moving Out Cleaning
Everyone wants to move into a house that is freshly painted and well-cleaned in each corner. It's good if the new owners can also find the house in similar condition. Even in some house agreements, there is a condition that whenever the lease ends, the rental has to clean up the house while moving out. Hire companies that provide move-out cleaning and junk removal services, or you can clean the house. This can be an entertaining step for kids as well. You can save money on your deposit by filling out the nail holes and repairing the damage.
Moving Day Checklist
Finally, the day comes when you are all set to move out of your house and start a new phase of life. But this day can be a disaster if you miss important points. There is a section in your family moving checklist designated for the moving day. On moving day, check the labeling on the boxes and ensure every room is well clean. Keep the driveway and moving path clear to avoid any chances of any damage or injury at the time of loading and unloading the belongings.
Each family member should be a part of the moving process. This Family Moving Checklist is created for house moving, and we have listed all the necessary steps of the moving process. For more details, you can contact us at www.vanlinesmove.com.
Ready For your Move?
Start your booking
today and save
time and money!
Get Quote
Ready For your Move?
Start your booking today and save time and money!
Get Quote
Categories
Archives