Things to keep in mind during the peak moving season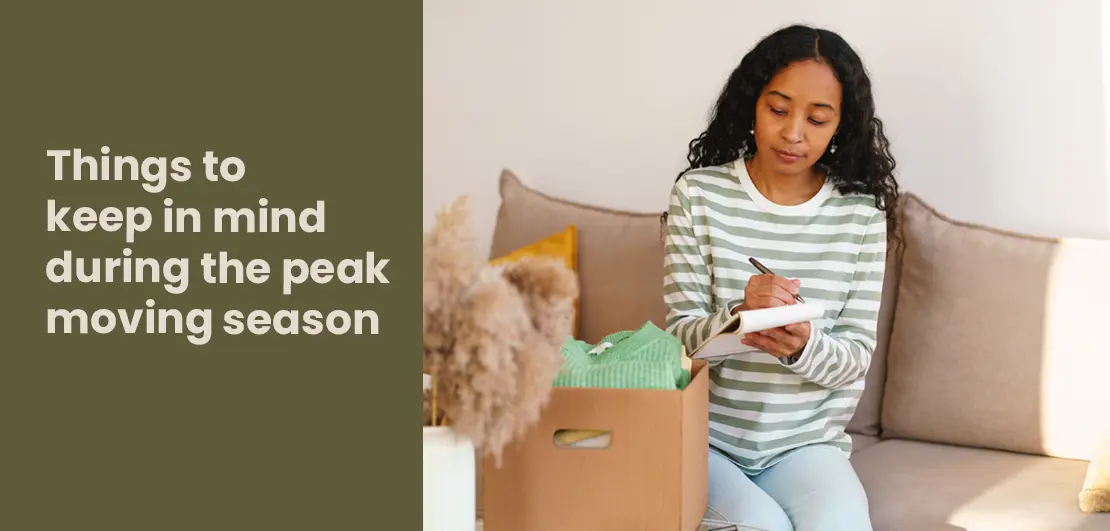 The busiest moving season across the USA is between April and September. This period is defined as the peak season for moving. Every move is different, and the purpose of the move is different for every relocation. During the peak season, the moving rates are high; still, most people prefer to move because of low rates in real estate and better time off from school and offices. Irrespective of your decision to move with a professional moving company, you need to keep some points in mind.
We have compiled a few important aspects to keep in mind while moving during the peak season.
1. Start Preparing Ahead of Time
Relocating during a peak season means you need to prepare for your move ahead of time. Initially, you can start contacting moving companies for moving quotes at least six to eight weeks before your moving date. Collect multiple moving quotes from different moving companies and compare their estimates. Get the best moving rates from the best professional movers across the USA. You can visit this link to get a free moving quote- www.vanlinesmove.com.
2. Book Your Mover in Advance
Once you have compared the moving estimates, you can finalize the moving company. Book it as early as possible, as during the peak season moving companies are very busy and if you delay booking you might not get your preferred moving date. The other benefit of booking a moving company before time is lower moving rates.
3. Grab Discounts or Offers
Moving during the peak season is expensive as the prices go up because of increased demand for the services. But you can minimize the moving cost with discounts and offers provided by the moving companies. If such offers are not visible on the website, you can ask the company representative for available offers.
4. Don't Plan Your Move on a Holiday
Holidays vary from state to state, and planning a move on a holiday or during the holiday season can be a bad decision. Moving companies are in high demand during holidays, and there are chances of traffic jams and delays in the moving process. So, it is better not to plan your move on a holiday.
5. Use Van Lines Move Moving Planner
One best approach to simplify your move during peak season is using a planner. With an effective planner, you will not skip anything and can plan your move with maximum efficiency. Van Lines Move Moving Planner is a tool that can help you take action step by step and make your peak season move relaxing.
6. Prepare Your Belongings
If you hire a full-service moving company, they will provide you with packing services. But there are several things that your mover won't move, and you can start preparing such items before moving day. Start packing belongings for your first week in the new house separately. You can also pack your documents, jewelry, medication, and cash as the moving company will not pack, or move them for you. If you have some precious items you want to handle yourself, you can also start preparing them.
7. Beat Heat on Moving Day
As your move is during the summer, you need to stay hydrated to keep up your energy. Keep your water bottle handy so that you can take a sip easily. You can also take some cold beverages and coffee to boost your energy and stay alert during the move. Try to wear light and comfortable clothes that can prevent sweating and you will manage easily.
8. Arrange For Baby Sitter
Taking care of kids during the move is very important as they might be upset with the changes. It is better to hire a babysitter to keep an eye on your kids while you are busy packing and loading. If you have family or friends, you can ask them to take care of your children.
There are several reasons why people plan to move during the peak season, and we discussed them earlier. The peak season move can be relaxing and comfortable if you have the right partner by your side. A professional moving company can assist you at several steps of your move, and you can enjoy your relocation journey even during the peak season.
Ready For your Move?
Start your booking
today and save
time and money!
Get Quote
Ready For your Move?
Start your booking today and save time and money!
Get Quote
Categories
Archives