Relocation Revolutionized with Modern Technologies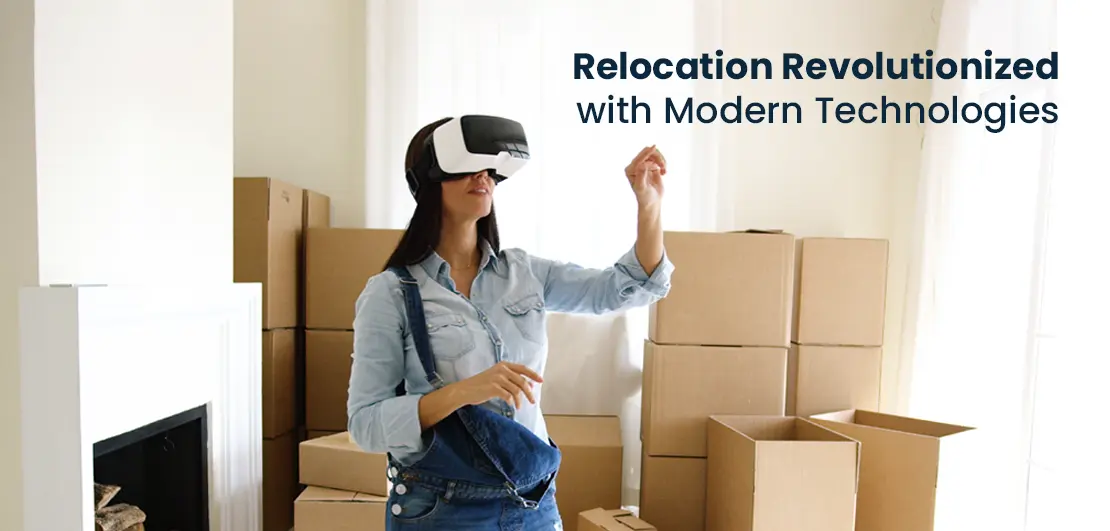 Moving is a time taking and stressful process that requires proper planning and professional help. Earlier, people relocated on their own, but those moves were full of difficulties. Some people hire moving companies that simplify the moving process. At that time, the only way to connect with moving companies is by calling them on their landline and asking them to visit the house for a moving quote.
We all know that technology has revolutionized our way of living. It also improved the process of relocation and completely revolutionized the moving industry. Here we have compiled a list of technologies that have changed the moving industry and how they influenced the relocation journey for everyone.
· A virtual tour of the new house
When you plan to relocate to a new city or state, the biggest challenge is to find a perfect house. To find a perfect home, you need to visit a city or state and find a property with the help of real estate agents. But technology has made this process easy. With Virtual Reality (VR) technology, you can have a tour of your new home virtually. Several applications, tools, and online platforms use VR to make home tours easy even from distance. Drone photography and videography helped real estate in exhibiting the property in an improved way. This helps in exploring the property and its neighborhood on screen.
With 360 photography, you can view the property from different clicked photographs and get a virtual tour of the property. For people living in a different state, VR is a boom as it helps you understand the property, and you can make a better decision without visiting. If you move with furniture and belongings, you can decide what to take with you or leave in storage.
· Explore a new neighborhood from your current home
Moving to a new state is challenging as you don't know about the culture and lifestyle, and in some cases, you are new to the local language. It was difficult to gather such knowledge about the neighborhood. But today, several platforms help you learn everything about the neighborhood, even without visiting. You can use Google maps to get real-time data about the routes of the city, places to eat and shop, and more. You can jot out the best routes for your commute and enjoy your new life with maximum comfort. You can also visit this link and collect as much detailed information if you want to know about your new city or state- https://vanlinesmove.com/area-we-serve.
· Accurate moving estimates online
A few years ago, if you have to move to a new state or city, contact moving companies on call and collect moving estimates. But such moving estimates lack accuracy, and you have to wait for the final quote till the moving day. This usually affects the moving budget. These days, moving companies are providing accurate moving quotes online. For such online moving estimates, you have to enter your moving requirements on the moving form, and you will instantly receive moving quotes for free. You will also get contact details and relevant information about the mover so that you can connect with them for any move-related query. These moving forms gather all the required information to create accurate moving quotes and simplify your moving process. To get an accurate moving quote for your relocation, click on the link- https://vanlinesmove.com/.
· Digging details of moving companies
Contacting and booking a moving company is simplified with the online booking process. But various moving companies are scamming people with low moving cost estimates and great discounts and offers. Though learning about any moving company without visiting them is difficult. But with technology, this issue is also resolved as you can research the moving company on various online websites like Yelp, Facebook, BBB, and more. These websites gather all the information about the moving company like their license number, customer reviews, and more.
· Track your moving vehicle
If you move across the states and hire a moving company, you are worried about their delivery time, and there is an uncertainty if everything will reach you or not. These days all the moving trucks have GPS trackers installed in them. These trackers help you in tracking your moving truck or rental truck. You can estimate the time when will your shipment will be delivered. With Bluetooth devices, you can keep track of individual packages if they have some valuables in them, in case they are misplaced.
These technologies have revolutionized the process of relocation and made it more efficient. You can connect with us to experience such incredible moving.
Ready For your Move?
Start your booking
today and save
time and money!
Get Quote
Ready For your Move?
Start your booking today and save time and money!
Get Quote
Categories
Archives