Hiring a Heavy Haul Transport Company? Remember these points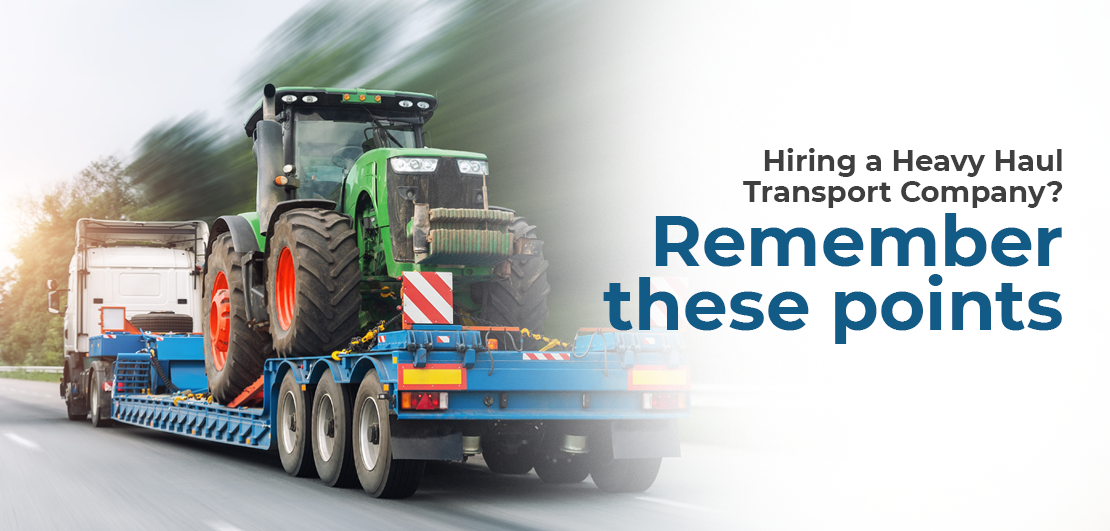 Moving types of machinery and appliances for an industry is a work of commitment. On-time delivery and no damage while relocating are the two main priorities as this can affect the project works and business. Though moving such heavy equipment is highly complex and several regulations adhere to it. Each state has its regulations for transporting heavy equipment. If you are planning to relocate the heavy equipment of your industry then hire a team of experts to stay away from stress.
A full-service heavy equipment transport service will be the best option as the professionals will plan the loading, unloading, and hauling. A licensed experienced haul truck driver will transport the equipment. The purpose of hiring a team of experts is to avoid any hassle and let the transition be completed smoothly. But how can you decide which team is perfect for your heavy equipment transportation?
Here, in this piece of writing we have listed out the points that every industry should keep in mind while booking heavy equipment moving services:
· Right Equipment for Heavy Equipment Move
Each heavy equipment moving company serves different industries, and they have specific equipment as per the requirement. Different types of equipment mean different load size, and so does the equipment and truck size. Various types of trailers can be used to transport oversized equipment. To transport such heavy equipment of different sizes companies can use trailers like removable gooseneck trailers, flatbed trailers, multiple axel trailers, stretch trailers, etc. So, before booking the moving company, make sure that they have the right sized and type of trailer for your equipment transport.
· Heavy Equipment Move Insurance
Before hiring the heavy equipment transport company, make sure that they have appropriate insurance. As we know, large-sized appliances and equipment can be a huge liability. So, if there is any accident while moving heavy equipment, does the moving company be able to cover the cost? Other than the insurance, several certifications and permits are required to perform heavy equipment hauling. While booking the company, make sure they have all the certifications, and permits according to the local and state standard.
· Heavy Equipment Move Safety Measures
It is necessary to check the safety records of the heavy equipment moving company. Take check whether the moving company is doing regular maintenance of the trucks for their mechanics including engine health, horns, brakes, etc. The next thing is carefully loading the equipment. Each heavy equipment moving company needs to use the right trailer and related moving equipment. Also, make sure that the company stays adhered to the service regulation hours. All these safety measures should be taken by all the heavy equipment moving companies.
· Transparency in Pricing and Contract
A good heavy equipment moving company must be transparent in all ways. They should answer every query and must provide valid information. Always hire a moving company that is easy to approach and provides accurate details about the costs involved in shipping. When you book a moving company, you have to sign a moving contract. And there are a few points you should keep in mind before signing any contract or agreement. Each agreement should specify the services they are offering, the capacity of the load, insurance coverage, timeline, and most important shipping cost and related fees.
· Company Service Area
Most moving companies have defined territory meaning they can operate within specific regional boundaries. If you book heavy equipment moving company that is local then you might need special permits and pay additional fees to take your equipment over long distances. Make sure about the service areas of the moving company before signing any contract or agreement.
If you are looking for a heavy equipment transportation company, connect with Van Lines Move. We will connect you with the best team of professionals who can handle your moving requirements. Make sure you verify everything as mentioned later to get a stress-free relocation process.
Ready For your Move?
Start your booking
today and save
time and money!
Get Quote
Ready For your Move?
Start your booking today and save time and money!
Get Quote
Categories
Archives