Is it a good decision to move to Arizona? Updated 2023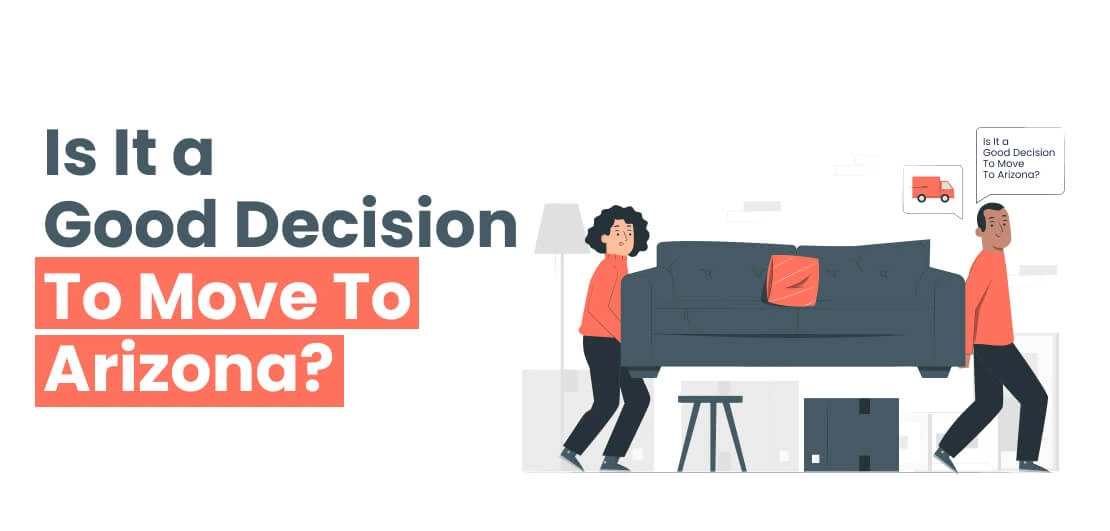 Arizona is a wonderful place to live in and that's why thousands of people move into the state every year. According to the latest report submitted by ABC 15 ARIZONA, the population of Arizona increased by 1.3% from July 2021 to July 2022. As per the data from U.S. Census Bureau, Arizona's population increased during this period and the population count reached 7.35 million. Arizona is a perfect place to live and work as the taxes are low, housing is affordable, and there are plenty of outdoor activities for everyone.
Now the question arises why should you move to Arizona? So, here in this article, we will discuss the details about Arizona like the cost of living, job market, housing, and education opportunities, along with the pros and cons of living in the state. We will also discuss the top five cities of Arizona to live in.
Arizona at a Glance
The cost of living in Arizona is above average and it is only 6.4% higher than the national average. The cost of living goes up if you are moving with the family. The cost of utilities and transportation is way up higher than the national average. The cost of living in Arizona is majorly affected by the cost of housing.
When you move to Arizona, you will be amazed by the higher cost of housing. The housing cost in Arizona is 19% higher than in the other states. The median cost of buying a house is $349,300 which will force you to drop the idea of buying a house here. The best way to find affordable housing list out the neighborhoods, narrow down your search and grab the opportunity when find a property in your budget.
The job market in Arizona is thriving with multiple job opportunities for the newcomers moving here. The economy of Arizona is strong with an increasing employment rate of 5.2% over the five years to 2022. The Arizona economy is forward-thinking and this resulted in the establishment of many tech startups. This is one of the richest economies in the country with employment in major sectors including defence, tech, manufacturing, healthcare, aerospace, biotech and more.
Pros and Cons of Moving to Arizona
Pros of Moving to Arizona
Warm and Sunny Throughout the year
One of the biggest perks of moving to Arizona is its warm sunny weather. There are no harsh winters, chilled winds and piles of snow. The climate of Arizona is semi-arid and arid in the lower elevations and there are continental and alpine types in northern highlands. The temperature in summer in Arizona can range between 90oF to 120oF.
If you are planning to move into the Grand Canyon state then you won't have to experience the chilly winters. As the temperature only reaches 70oF in February and there is hardly any snow in any part of the state.
Good for Health & affordable healthcare
The warm climate of Arizona is a boon for good health. Due to high temperature the risk of viral and other infections reduced to minimal. There will be no risk of bone and heart diseases as regular exposure to the sun will increase the production of Vitamin D. If you are a respiratory patient then moving into Arizona will be a blessing. The hot arid climate will prevent you from developing any lung problems.
Also, healthcare in Arizona is highly affordable. As we have seen the cost of living in Arizona is higher than the national average along with the higher cost of utilities, transportation, housing and more. But when it comes to healthcare it is quite cheaper at 2.7% cheaper than the national average.
A strong economy with thriving job market
The economy of Arizona is strong and robust and it is one of the richest economies of the country. A strong economy means a thriving job market and Arizona is home to hundreds of startups and well-established industries. Each city of the state has a specific industry to provide ample employment. Like Tucson is home to the aerospace, space, and defense industry. While Phoenix offers plenty of opportunities in the educational, healthcare, financial and aerospace industries. If you are moving here for tourism and hospitality then Scottsdale is the best choice. The job market has opportunities for everyone.
Plenty of Outdoor activities
Warm and dry weather welcomes the residents of the state to explore the outdoors. The state is known for its outdoor activities. If you are a person who loves to explore nature then you can fit in at the earliest. The Grand Canyon is a nature wonder and every year about 5 million people visit the place. The state remains sunny most of the year and you have more than enough time to enjoy outdoor activities. Some of the preferred choices of outdoor activities include- biking, hiking, fishing, boating, rock climbing and more. There are vast deserts and parks that you can explore after moving in here.
Perfect destination for retirees
Arizona is the perfect destination for the retirees. If you are a retiree and planning to move to someplace affordable in terms of food, house, and especially affordable healthcare. With increasing age, people get lower immunity and a higher risk of developing health issues. For all the retirees Arizona is a complete package deal. You can find low-cost food and housing after exploring well. And above all, you can be in sunlight for longer hours, which can improve your immune system and in case of emergencies, the cost of healthcare is highly affordable. As there is sunny all the time retirees can enjoy the warmth of the sun and great exposure to outdoor activities.
Navigating a place, you recently moved to can be difficult. But navigating in Arizona is easy because of the grid layout. The layout of each city is simple and reading the grid is easy. Traffic jams are rare in the state in summers and it is easy to find the destination via highways.
Top performing- University of Arizona
The education system of Arizona is one of the best in the country and it is also a major source of employment in the state. The University of Arizona is a top-performing school which is located in the Tucson of Arizona.
Since all other necessities are at a higher cost except healthcare, the only thing you wish for is a low cost of food. The cost is pretty low for a family of four people the annual cost of food will be around $9,338 (in 2022).
Cons of Moving to Arizona
A huge barren land in Arizona
Arizona has vast deserts and if you move in here, you will see more cacti, palm trees and lots of sand. There are a few red landscapes but no green wetlands in Arizona. So, if you dreamt of green forests and lush gardens for your new home, then Arizona is not an option.
Arizona experiences sunny days throughout the year. If you are a person who loves winter chills and snow, then Arizona is not the right place for you to move. Summers are long and temperatures can range between 90°F to 120°F. Even in southern regions, the temperature can hit 125°F. In summer it can be dangerous to go outside as the high temperature and bright sun damage your skin and result in dehydration.
As the surroundings in Arizona have different types of cacti, herbs and insects, it can be risky to touch anything. Most of these cacti, herbs, plants, insects and bugs are found to be poisonous and coming in contact with these things can be dangerous or life-threatening in some cases.
Public transportation is very disappointing in Arizona and it is not accessible in some remote areas. As we know Arizona has some wonderful places to explore but you might need a car for this. Though this can result in heavy traffics on the roads during rush hours but this is the most convenient way to commute to work.
Winters in Arizona are sunny and people from other states came here to enjoy the weather. The warm days in Arizona invite hundreds of visitors every year and this means there is heavy rush on the roads. In winter and especially during the holidays you have to spend long hours in traffic jams.
Creepy creatures everywhere
Arizona has an arid climate and large desert that means reptiles, insects bugs and more. You can easily spot giant lizards, scorpions, tarantulas, etc. everywhere. When you move here, then it might be difficult for you, but soon you will learn to live with these creepy creatures. You have to make your house safe from these animals.
Haboobs are quite common in Arizona. These are dust storms that can strike the state at any time of the year. The haboobs can not affect you until they went across your house, if they go through it mean you need deep cleaning.
Sickness due to Valley Fever
Valley fever is a major concern while you plan to move to Arizona. Most of the people especially the locals of the south of Arizona are infected with this. So, before moving here prepare yourself as you cannot avoid the infection. These days treatments are easily available for Valley Fever.
Top 5 Cities of Arizona to Live in
Chandler is located in the southeast of Phoenix. It is a vibrant city with a strong sense of community, a thriving job market and an excellent education system. The city has a high walkability score and plenty of areas for amusement. The cost of renting a 1-bedroom apartment is approximately $1,580 and the percentage of singles is more than married people. There are a few recommendations of places to explore by the locals of Chandler- Arizona Railway Museum, Desert Breeze Park, Makutu's Island, and more.
Scottsdale is located in the Greater Phoenix metropolitan area. It is the perfect destination for young incomers who want to start their career and settle with their families. Scottsdale is known as "The World's Finest Golf Destination" where thousands of visitors come every year. The city has scenic beauty, luxurious life and exciting nightlife. If you are planning to move here then you must know that the cost of renting a 1-bedroom apartment is approximately $1,850. The locals of the city recommended some of the best places to explore including Scottsdale Museum of Contemporary Art, Butterfly Wonderland, Troon North Golf Club and more.
Located on the east of Phoenix, Tempe is known for its culture and arts. The city is experiencing a growth spurt with a diverse economy and job market. The city welcomes hundreds of students every year as it is home to Arizona State University. The city is located along the Salt River with multiple outdoor fun activities like biking, jogging, etc. The locals of the city recommend plenty of recreational areas for boating, biking, hiking, kayaking, and more. Some of the best places to explore are Phoenix Zoo, Casino Arizona, ASU Art Museum and more.
Phoenix is the capital city of Arizona and is one of the most recognized cities in the state. There are high-end spas and first-class golf courses in the city. Phoenix is the best place to live as it is culturally diverse, has thriving business opportunities, vibrant colleges and more. If you planning to move here, you can get a 1-bedroom apartment at a rental cost of $1,399. There are some wonderful places in the city that you would love to explore including Cobra Arcade Bar, The Churchill, Desert Botanical Garden and more.
Gilbert is ranked as one of the best cities in Arizona to live in. It is located in the southwest of Phoenix and is nicknamed the "Hay Shipping Capital of the World". The city is a perfect destination for newcomers who are looking for stable jobs, settling a family and the real estate market. There are a few places recommended by the locals that you can explore like Freestone Park, Cosmo Dog Park, Golfland Sunsplash, San Tan Mountain Regional Park, and more.
So, we hope you can now decide whether it is a good idea to move to Arizona. Vanlines Move can help you plan your move by helping you find a professional moving company. You can visit our website- www.vanlinesmove.com or call 8337061800 to book a mover. Make your Arizona moving experience a happy one with a top professional moving company in the USA.
Ready For your Move?
Start your booking
today and save
time and money!
Get Quote
Ready For your Move?
Start your booking today and save time and money!
Get Quote
Categories
Archives