How to Pick the Right Truck Size for Your Moving Needs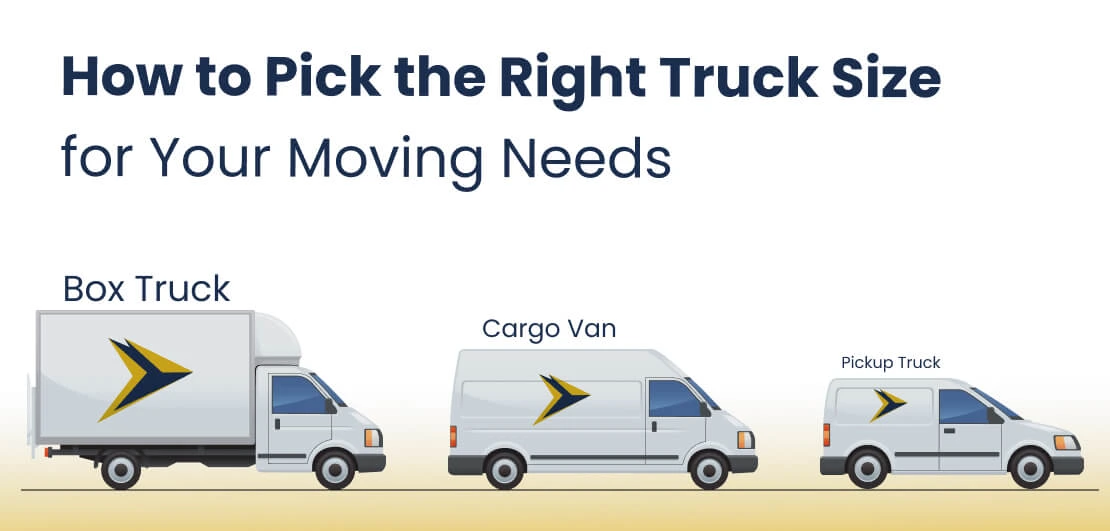 Once your type of move is decided you have to make all the arrangements like buying packing supplies, getting quotes for truck rentals and more. Getting a truck of the right size is an important task as it can affect your moving budget. If you rent a large truck then it will be more expensive than the smaller one. Apart from renting a truck other costs are also affected like the cost of gas as large truck fuel consumption is higher. So, you need a right-sized truck for your move neither large nor small. The first thing is you should understand different types of vehicles that can be used for moving and what are their holding capacities.
Different types of vehicles used for moving & their capacity
When it comes to moving trucks, then you need to understand that the moving trucks are categorized based on their holding capacity. The holding capacity of a truck is the entire space in the truck box from floor to roof that can be used for storage. But due to different-sized packages, there are chances that you need more space on the truck. Irregular stacking of the moving boxes can result in damage and will occupy more space on the truck.
Here we will discuss different types of trucks that are generally used by moving companies-
Pickup Trucks- These trucks are ideal for moving a small number of items like a few pieces of bulky furniture or moving from dorm to apartment. You can use Pickup trucks if you are renovating your house, as these are perfect for transporting fewer items. Pickup trucks are easily available for rent and you can discuss your requirements for renting right sized pickup truck. There are a few points you should check before renting the pickup truck- its mileage and fuel efficiency, payload capacity, and weight limit.
Cargo Vans- Cargo vans are also used for smaller moves like moving 1 room or moving from a dorm to a studio apartment. With cargo vans, you can easily move small boxes and furniture. These are efficient in various aspects like fuel consumption, budget, and space. You can rent a cargo van for your small to medium move considering the type of move and moving budget. There are various models of cargo vans available for rental with variations in size.
Box Trucks- The most commonly used trucks for moving and also the most expensive ones as compared to the other types of moving trucks. These trucks are best suited for medium to large-scale moves. As we discussed, pickup trucks and cargo vans are best fit for small moves, so for big moves where people have to move studio apartments or 1-5+ bedroom apartments. The size of the trucks is based on the type of property you are moving. The size of trucks ranges from 10 ft to 26 ft and you can choose the big size as per your belongings. As the large property size doesn't have to mean more belongings. In the coming section, we have listed the type of truck or van suitable for your house size.
So, depending on the size of the house, the moving company uses the moving vehicle. Commonly used moving vehicles according to the property size are listed here-
| | |
| --- | --- |
| Type of vehicle | Type of Move |
| Pickup Truck | Small moves |
| Cargo Van | 1 room or similar size moves |
| 10 ft truck | Studio apartment |
| 12 ft truck | 1-2 room |
| 14 ft truck | 1-2 BHK |
| 20 ft truck | 2-3 BHK |
| 26 ft truck | 4+ BHK |
As the data represents there are chances that the size of the truck may overlap for different property sizes. This depends on the belongings in the house, not only the size of the house can determine the accurate truck size.
How to choose the right truck size?
Let's discuss the right method to choose the perfect size of moving truck. The best way is to use the online moving calculator to calculate the space that your belongings will take on the truck in cubic space. The next step is to find the cubic footage capacity of the truck you are planning to rent.
We have compiled some details of the size of different items in each room. Pick the items you have and calculate the space required on the moving truck.
Living Room-
| | |
| --- | --- |
| Item | Space required (cu. ft.) |
| Large arm chair | 25 |
| Medium arm chair | 15 |
| Coffee table | 15 |
| Dining table | 43 |
| Flat TV (21"-32") | 10 |
| Flat TV (34"-50") | 15 |
| Sectional Sofa | 130 |
| 3-seater sofa | 65 |
| Book shelves | 15 |
| Stereo | 5 |
| Piano (Upright/Grand) | 60/85 |
Bedroom
| | |
| --- | --- |
| Item | Space required (cu. ft.) |
| King Bed | 85 |
| Queen Bed | 65 |
| Single Bed | 45 |
| Bunk Beds | 160 |
| Folding Bed | 60 |
| Dressing table | 25 |
Kitchen and Hall
| | |
| --- | --- |
| Item | Space required (cu. ft.) |
| Dishwasher | 30 |
| Washing Machine | 8 |
| Fridge | 40 |
| Kitchen Table | 25 |
| Kitchen Chair | 8 |
| Vacuum Cleaner | 3 |
There are several online tools where you can enter the belongings to estimate the truck size.
Tips for choosing the right truck size
Use a moving calculator- A moving calculator will not only determine the moving cost; it also help you evaluate the number of boxes you will need for packing your stuff.
The right way to load- Loading and stacking the boxes is a very important factor in choosing the right moving truck size. You can buy new boxes to pack even the smallest item. Disassembling large furniture and items can also be helpful.
Type of move and truck size- If you are moving within the city then you can make multiple trips to transport the items. But if you rent a small size truck in a long-distance move then it can be more stressful than anything else.
Be confident while driving- When you rent a truck to drive on your own, consider that you have to drive 20+ feet long truck on heavy traffic roads.
Consider hiring a professional mover- We understand your decision of renting a truck, but it is better to consider all the cons and risks associated with self-moving. You still have time to book a professional moving company. Contact Van Lines Move, we can even connect you with moving companies at the last moment.
We hope this article serves its purpose and help you estimate the right size of truck for your moving needs. For any additional information and moving requirements, you can connect at www.vanlinesmove.com or call 8337061800.
Ready For your Move?
Start your booking
today and save
time and money!
Get Quote
Ready For your Move?
Start your booking today and save time and money!
Get Quote
Categories
Archives