10 best ways to avoid losing items while moving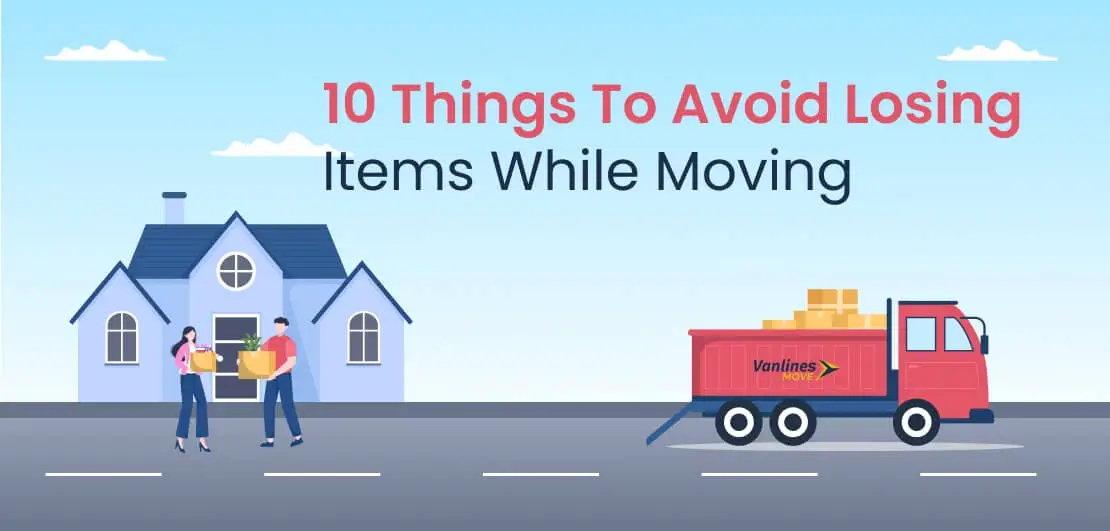 If you have moved once in your life, you understand that losing an item in the transition affects you in many ways. It doesn't matter how much care you take while moving the items; something always gets lost.
Avoid Losing items during the move
It is important to manage and organize the belongings to avoid losing them while in transition. Different scenarios increase the chances of losing an item or an entire box. The reason for losing the belongings can be mismanagement or last-minute packing, but you will lose something while moving. You can manage everything and minimize the risk of missing or losing a single item throughout the move. The key to a successful damage-free, loss-free, and stress-free move is detailed planning and organization.
You can do several things to reduce stress and the risk of missing items during the move. Let us discuss some of the best ways to well-organize your move.
The foremost important part of any moving process is buying moving insurance. Moving insurance will ensure that you will be compensated for any loss or damage to the items in transit. Each mover offers a different type of protection for the belongings. Discuss with your mover what type of value protection your mover provides. You can buy insurance separately at an extra cost that will protect the entire shipment. Different types of moving insurance are available, and you can decide what type of value protection you need for your belongings.
Creating an inventory is one of the best ways to have an organized move. Prepare a master list with all the details of what item will go in which box. Include all the items in the list you intend to take with you to the new house and dedicate boxes to each room. While preparing the list, start from one room and then go to the next. Don't miss any item in any room. Make your list specific to avoid any confusion while packing.
3. Pack your survival kit
A survival kit or kit of essentials is a bag containing all the items you might need during transit or the first few days after the move. This bag will have everything- your medicines, snacks, a pair of clothes, toiletries, and more. Keep this bag of essentials separate so it does not get mixed up with the moving boxes. This survival kit will prove helpful even if your belongings do not reach the destination for a few days. Take this bag with you in your vehicle or wherever you are travelling.
4. Keep valuables separately with you
There are various items that your mover won't take with them like- cash, jewelry, documents and items with sentimental value. Your mover won't take these items on a moving truck and would ask you to take them with you. You can carry these items with you because you never know what may happen on the moving truck. If you don't know what items your mover won't take on the moving truck, ask them before the moving date.
5. Pack one room at a time
Don't create a panic by starting packing all the rooms at once. This can be confusing, and you might lose some items even during the packing. Though packing each room one by one can be time-consuming, it will be tedious, and there are fewer chances of misplacing anything. Even labelling each box will be easy if you pack one room at a time.
6. Put a label on everything
Placing a label on each box will simplify the entire moving like loading, unloading and especially unpacking. With each label, you can determine what will be in the box and what will be the priority to open it. Labelling the moving boxes will help the movers in placing the boxes according to the items in the box. If there is any fragile item in the box, then special care will be taken by the mover while carrying them.
7. Watch out for your electronics
Today, our lives are surrounded by multiple electronic gadgets and we all depend on these in one way or another. So, keeping these electronic items safe and secure is our responsibility. There are a variety of electronic items that you might carry with you for easy communication and work like cell phones, laptops, tablets, video game consoles and more. Keep an eye on these gadgets during the move to prevent them from any damage.
8. Use Ziploc for small items
Ziplocs are very helpful while you are moving your house. These small packets will keep small items safe and minimize the risk of losing them. You can pack the nuts and bolts of furniture in these Ziplocs and label them or tie them with the furniture so that there will be no hassle of finding the small parts at the time of installation. You can keep electronic cables, nuts, bolts, screws, and more items in these Ziplocs and keep them in one separate box and label it as Ziplocs.
9. Check everything before signing the inventory
After loading all the items on the truck, your mover will get the inventory list signed by you. Don't be in a hurry to get things done; instead make sure that everything on the inventory list in the moving boxes, is safely packed and loaded carefully on the moving truck. Check the house and inventory before signing any document. If you sign without verifying, it will be difficult to file any claim in case of any damage or loss of the item.
10. Background check for movers
The last thing you can do to make sure that your belongings will be safe and your move will go smoothly is to do a background check of the mover before hiring them. You can find the reviews, feedback, complaints and performance status of the mover on various online platforms like FMCSA, BBB, Yelp, and more.
We know that planning a move can be difficult, and managing it with multiple steps at one time can be challenging. Van Lines Move can save you from all the stress and challenges by connecting you with the top professional movers. Moving companies in our network provide damage-free and safe move. You can take some minutes to find the best mover for a safe and secure move.
Ready For your Move?
Start your booking
today and save
time and money!
Get Quote
Ready For your Move?
Start your booking today and save time and money!
Get Quote
Categories
Archives