How Much Does a DIY Move Cost? Find Out Here!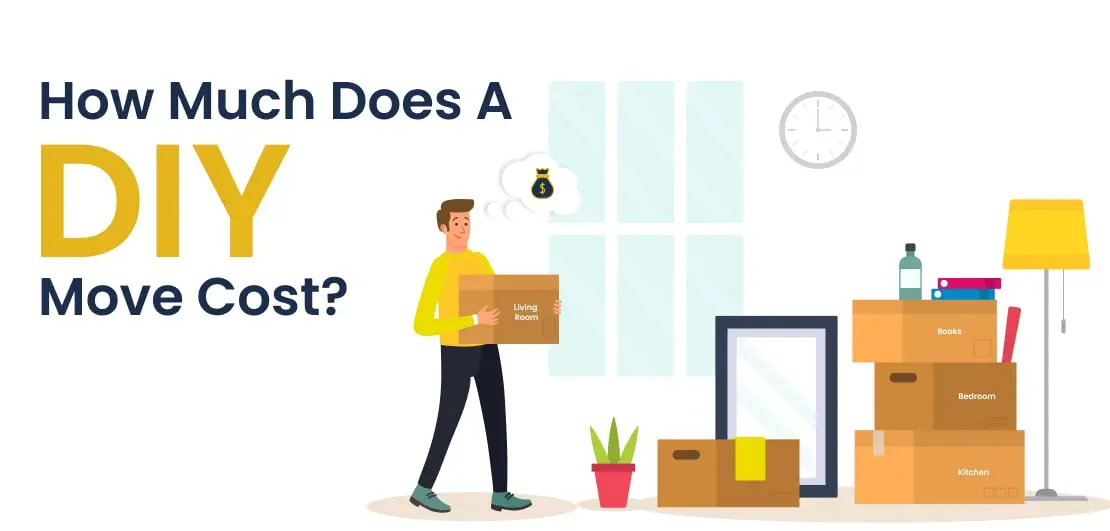 Everything You Need to Know About DIY Move Costs
If you have a limited budget then a Do-It-Yourself (DIY) move is your first choice to relocate. DIY move is considered the cheaper way to move within the state or out of state. Even if the DIY move can fit within your moving budget, it will have certain challenges as compared to moving with a full-service moving company. And it is not as cheap as you would imagine. There are multiple stages involved in the DIY move and so does their costs.
In a local DIY move, the cost can be comparatively low, but when you switch to a long-distance DIY move the cost can go very high. Now, you will be thinking about how much does a DIY move will cost. It depends on multiple factors associated with the move like moving distance, moving supplies, number of items moving, and more. Here, we will discuss all the major expenses you should consider while planning a DIY move. This article will help you understand the moving costs included in the DIY moving cost.
Moving Distance
Whether it is a DIY move or a full-service move, the cost of the move is affected by the moving distance. A local move will always be less expensive than a long-distance move. Depending on various parameters like the lower cost of a rental truck and fuel cost, the cost of a local DIY move will range between $150-$250.
This cost will go high with the increase in the distance and more fuel consumption. The costs of a long-distance DIY move can range between $1500 and $2500. For a long-distance DIY move, the moving cost will be high as you will need a rental truck for a long-distance move. There will be more fuel consumption and a requirement for quality packing materials to protect belongings in the transition. Several parameters associated with the moving distance can influence the cost of your DIY move.
Moving & Packing Supplies
Moving and packing supplies are required for any type of move. This is one of the major expenses of your DIY move, either local or long-distance. A quality packing material ensures the maximum safety of your belongings through the relocation. Basic packing supplies required for any move are moving boxes, wrapping sheets, packing tape, foam pouches and peanuts, furniture blankets, colored stickers, colored markers and more. All these items are not very expensive, but combining their cost can create a hole in your pocket. There are options to find these packing and moving supplies free. But if required then here is the estimated value of each packing and moving supply-
Moving boxes- $1-$10 per box
Wrapping sheets- $20 per box
Furniture blanket- $5-$10 per blanket
Packing tape- $2-$5 per roll
Moving Equipment
Moving a house means you will be moving heavy items on your own. For efficient loading and unloading of heavy items, you will need the right moving equipment. Moving equipment allows easy loading, unloading and movement of heavy items in the house. Common moving equipment that you might require during your DIY local or long-distance move are moving dollies, moving crates, ropes, straps, loading ramps, trailers, etc. There are several places from where you can rent such equipment. The cost of renting any moving equipment varies on the duration. Moving equipment is necessary to avoid any physical injury while lifting the heavy items and they will also ensure the safe loading and unloading of the items.
Rental Truck
Renting a truck is the prime requirement for a DIY move. If you can borrow a truck from your friend, then it will be helpful and save some money on the move. Renting a moving truck from a reputable company will be expensive though less expensive than hiring a moving company. But when it comes to deciding the required truck size, then it is a bit of a challenge. There are ways to determine the right truck size for your move. You can pick different-sized truck rentals at different prices. The cost of renting a truck can range between- $500-$2000. The cost of truck rental varies with the change in the size of the truck. This value is for a long-distance move, while for a local move, you can rent a truck on per day basis which can range between $20-$40 per day.
Renting a truck of the right size is important as it will decide the rental cost. But there are other factors like the mileage of the truck and driving a moving truck can affect the cost of truck rental.
Gas
Whether you rent a truck or move your house in the back of your car, don't forget to add the cost of fuel required to drive any vehicle. During the move, you will need to refill the gas tank multiple times depending on the moving distance. The cost of gas required for the move can be estimated with online tools like GasBuddy. This tool will help you estimate the cost and find the nearest gas station while you are on the road. For a truck rental, you will need 100 gallons of gas to move 1000 miles. So, in a DIY move, you will be paying a huge amount of money for refuelling your moving truck which can be expensive.
Moving Insurance
Securing your belongings while they are in the truck and transition. When you hire a full-service moving company, they will provide moving insurance to protect your items. So, during the DIY moving you are supposed to buy it to compensate the cost of any loss or damage to the items. Several coverage options are available for different types of moves. You can pick the best option at your convenience.
Halts & Stays
When you plan a DIY move, you must consider that you might need some breaks during the transition and night stays while moving across the state borders. You should add up the cost of refreshment and stay in your moving budget. The night stays in a hotel can cost between $100-$150. You can save some amount by booking the hotel in advance while starting to plan the move.
Moving Help
When you plan a DIY move, you are mentally prepared that you have to handle everything on your own. You can ask your family and friends to give a hand in packing, loading and unloading. As you will be lifting heavy furniture and appliances, it is better to get some assistance to avoid damage or injury. In case, you have no one in your family or friend to give a hand in moving, you can hire a professional. You can book local moving professionals in the area as per your requirements. These professionals can be associated with professional moving companies or freely available as freelancers. This can make your DIY move more expensive.
Save Money during DIY Move-
There are different ways to save money while you are having a DIY move. These steps can save money on your relocation and help you manage everything within your moving budget.
Collect free packing supplies- Moving and packing supplies are expensive and you can avoid this cost by arranging these supplies for free. You can get free moving boxes from different places and use household items for different purposes. Use suitcases and travel bags for packing clothes and documents. Take old rugs, carpets and linen and use them for wrapping the furniture and other items.
Plan an off-season move- As we know, an off-season move with professional movers is very low cost and similar goes with the DIY move. During the off-season for moving, you can get rental trucks at lower rates and it will be easy for you to plan the move.
Keep your options open- Even if you have made up your mind, you can still get options for hiring a professional mover. Collect some moving estimates and see if they can be managed within your budget, then go for it and get relieved from the stress of handling everything.
FAQs about DIY move moving costs
• What to expect while moving on your own?
When you plan a DIY move, you only consider low-cost moving with flexibility, the thing that you don't consider is stress. Don't forget that it can be physically stressful and full of risks. As you will be packing on your own, it might take weeks to complete the process. To avoid such stress while relocating, you can go for another option which is hiring a full-service moving company with Van Lines Move.
• What else I can do while planning a DIY move?
You can do several things like decluttering the house, donating items to the needy, organizing yard sales, and more. These steps can help you downsize and earn some money while moving.
Are you ready to handle a DIY move?
We know there might be some reason when you opt for a DIY move either a tight budget or flexibility with timing. Since planning a DIY move seems easy while its execution can be exhausting. If you understand the challenges of DIY move and are not ready to handle things then there are other options available. You can hire a full-service moving company anytime you want with Van Lines Move. We can also help you plan a last-minute move if required.
Ready For your Move?
Start your booking
today and save
time and money!
Get Quote
Ready For your Move?
Start your booking today and save time and money!
Get Quote
Categories
Archives