The Essential Guide to Moving in Bad Weather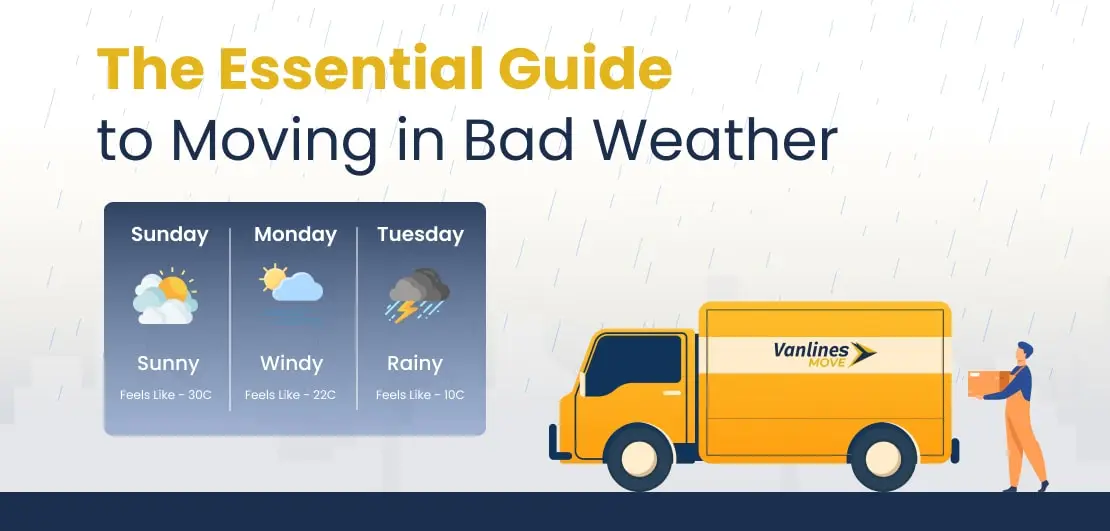 Despite planning and managing everything to make your move day a success, you cannot control the weather. A perfectly organized moving day can be ruined by rain, snow, storm, etc. So, to avoid any stress and damage, be prepared for the worst-case scenario.
Moving during the winter can be affected by unexpected snow storms, while the summer moves can wear you out with heat waves. It is better to consider several safety measures while moving in any season. Moving during the bad weather is difficult, and finding an alternate solution other than moving on the same day will be impossible. There are different conditions like your lease is ending; you cannot reschedule the move, you have to join a new office or more.
Here, we have listed a few tips for a move during the bad weather. It could be any condition like heat, rain, wind, snow, sleet, etc. So, be ready with the following tips-
How to prepare for the move?
While preparing for the move, you should stay updated with the weather forecast. But no one can control the spontaneous rain or storm. Better be prepared for anything that can ruin your well-planned moving day.
If you are planning a summer move, be ready to beat the heat and stay upright throughout the moving day. And if you are planning to move during the winter, you might have to face chilly winds, snowstorms, snow covering the paths, sleet, and more. Be prepared for different scenarios like rescheduling the move, packing the items with special packing material, etc.
Not only at your current location, you have to prepare your new home as well. You need to get it ready for snowstorms, rains and heat waves. You can connect with the utility providers to activate the services like air conditioning, thermostat, power supply and more. It will make your moving in easy as you can get comfortable just after getting into the house.
There are several ways to prepare yourself and your house for the move during the bad weather.
Get a bottle of water or any beverage with you to keep yourself hydrated throughout the day
Put plenty of sunscreen to avoid sunburns
Wear light and comfortable clothes which are breathable
Keep rain jacket, rain boots and umbrellas ready
Put extra towels on the side
Bring plastic wraps, waterproof trash bags
Arrange waterproof tarps
Bring winter hats, gloves, and warm comfortable clothes
Get hand warmers and hot beverages ready
Shovel and salt for removing ice from the door and driveways
What to do to protect the belongings?
Your belongings need complete protection from external pressures like heat waves, moisture and cold temperatures. The best way to protect the belongings is by using the quality and right packing. We can suggest some right ways to pack different items to protect them from any kind of damage-
To protect your documents and paper items you can pack them in waterproof bins and plastic bags.
To avoid seepage of water or moisture in cardboard boxes, wrap them with plastic wraps
Keep your cords, cables and small electronics safe by packing them in small waterproof plastic bags and then put them in the moving boxes
Let your movers pack the electronics professionally by using quality wraps and right-sized moving boxes.
Save space by packing your clothes and linens in vacuum-compressed bags
Protect furniture by wrapping them with thick old blankets and carpets.
How to plan for transportation?
The planning of the move is not only limited to packing the stuff with the right packing material. You also need to be prepared for the hassle-free transportation. If you are planning a self-moving then you have to arrange a moving truck and pick the route best for your move. Especially during the winter move, you need to have a backup plan with an alternate route if your current route is not feasible. For your moving day, prepare your transportation with a handful of tips-
If you are driving the moving truck by yourself, pick an alternate route for your move. If the roads are blocked due to snow then you have to move accordingly. The best way to avoid snow-covered roads is by travelling via highways which are generally cleared of snow and ice. Also, keep a shovel and salt with you, in case you have to remove the ice.
If you are taking your car by road, then get it ready for a long run. Service your car in advance as during the long travels there are chances that your car might heat up. Also, ensure the car tyres are in great shape. Check the fuel a day before your departure.
Prepare your new home for moving in
After preparing your belongings and transportation, the next thing you should take care of your new house. It should be ready for the immediate moving in and settling as the weather conditions are not good. You should protect your new home from any damage that can result from the weather. As the moving crew will carry the items the house might get dirty and there are chances that the floor will get damaged. Here are a few tips to prepare your new house for the move-
The first thing is to protect the doorway and entry floors. If you are moving in during rain or snow then the entire house will get dirty and muddy due to frequent movement. To prevent such conditions you can put towels, rugs, or blankets on the doorway, doorsteps, hallway and throughout the moving path of the movers. This will also prevent the risk of slipping on the floor and causing any injury.
In case your boxes get wet during the move and now they are piled up in your new house, then the first thing you should do is unpack these boxes and get them recycled as early as possible. The smell of wet cardboard can make it difficult for you to breathe.
If your new house has wooden floors, then you need to be very careful. You need to cover the floor with a waterproof tarp to avoid any moisture seepage and damage to the wooden floor.
Before arriving in the new house, you have to activate all the utilities like gas supply, power supply, water, and more. This will make your transition efficient.
Additional expert tips for moving during the bad weather
There are a few tips that can help you during bad weather moving and keeping yourself calm.
Get the right dress code- It is better to wear comfortable clothes and the right footwear on the moving day. If you have to walk more on the moving day, high heels are the worst option for your feet. Wear weather-appropriate shoes to avoid any mishap like slipping or spraining your foot. During rain or snow, wear rain boots and protect yourself from any injury. During summer move, wear open sandals or shoes to allow breathing.
Check your vehicle- Before hitting the road it is better to check your vehicle for any leakage. If you find any leak, get it fixed before going further or you can face trouble on the road.
Set a moving plan- Connect with your moving crew (whether doing a full-service move or DIY move) and set up a moving plan. In this you can decide the floor plan like which room will be packed first and how will the movers move the item.
Take breaks to avoid stress- Even if you are running behind schedule, it is important to take breaks during the move. Also, allow your mover to take refreshment breaks to gain strength throughout the day.
FAQs related to moving during bad weather
Will movers move in the rain or snow?
Yes, the mover will move you during the rain. But the decision to go further with the move depends on the severity of the rain. If it is pouring heavily, and it will be difficult for them to load and drive the truck then they will either wait or reschedule the move.
Is it a good idea to move during the winter?
Moving in any season can be challenging in different ways though there can be some advantages of the move. So, if you plan a winter move, there can be both pros and cons. Check out the pros and cons of winter move- https://www.vanlinesmove.com/blog/planning-a-move-in-winter-pros-and-cons.
How to deal with the moving in the bad weather?
Preparation is the right way to deal with any worst scenario. Collect all the required packing and moving supplies that might be required during the move.
Author
By vanlinesmove.com
Ready For your Move?
Start your booking
today and save
time and money!
Get Quote
Ready For your Move?
Start your booking today and save time and money!
Get Quote
Categories
Archives