10 Cheap Ways To Move Across the Country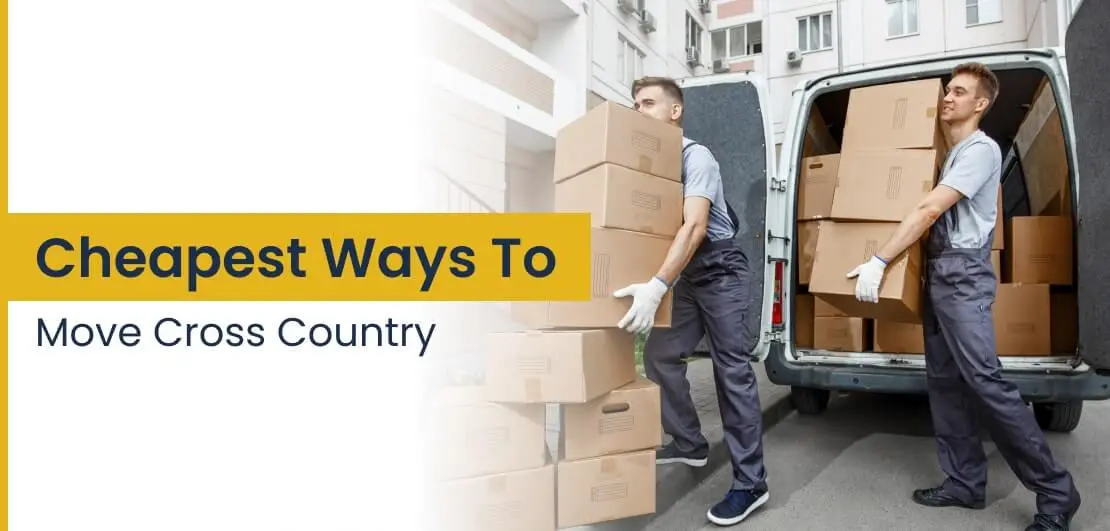 Moving across the state borders can be daunting with the increasing cost of moving. The cost of your cross-country move depends on several factors like number of items to be moved, total distance to be covered and type of your move. We understand that spending thousands of dollars during the move might not be possible for you. However, we can suggest you some affordable or cheap ways of moving.
In this article you can explore
10 cheap ways to move cross-country
Tips to reduce the expenses on cross-country move
Checklist for a cheap cross-country move
FAQs
10 CHEAP WAYS TO MOVE CROSS-COUNTRY
DIY Moving- The cheapest way to move across the states is by doing everything yourself. In Do-it-yourself (DIY) move you can save huge amount of money as there will be no expense of hiring moving labor. The only costs involved in a DIY move are cost of renting a moving truck, fuel cost and packing supplies. During DIY move, you can get rid of a lot of items that are of no use and earn some money by selling them. This will reduce your shipment size as well. DIY move is an affordable option for moving, but it can take a lot of your time and physical labor. This can be a time-consuming move as you will be handling everything without any help.
Rental Truck- Another way to plan your cross-country move affordably is renting a truck. This is an option for those who are willing to drive a truck across the country. In this type of move, you will be packing the house, handling the loading-unloading and driving the shipment. There are several truck rental companies from whom you can rent a truck. Though, rental trucks do not go for a good mileage. On an average, if you are moving about 2000 miles, then it will require 200 gallons of gas. In truck rental moving, you have to cover the cost of rent of truck, fuel cost and cost of any additional insurance.
Hybrid Move- A perfect mix of two types of moves that is DIY move and professional moving. This type of move is money saving as well as save you from a lot of hard work. You don't have to spend money on hiring a full-service moving company. In hybrid moving, you can pack the belongings and hire moving labors to load them into the moving truck. And then when you reach the destination, again hire moving labor who will unload the items from the truck in to the new house. Other than this, you can handle packing, loading and unloading and hire a transportation company to transport the shipment. Hybrid move allows you to outsource any stage of the move that you feel is difficult for you to handle.
Moving Container- You can rent a moving container for your cross-country move. Renting a portable moving container is one of the cheapest ways of moving instead of hiring a full-service moving company. These portable containers can be used in two ways- for moving or for storage. You can connect with the companies providing moving containers on rent and get a portable container dropped off at your home. Once the container arrives, you can load it with your belongings and the portable moving company will ship the container to the destination. Usually, you have to pay flat rates for the container only. But there are a few companies who charge some amount for delivery. A small or medium-sized residential move can easily be done by renting a moving container.
Ship your belongings- This is not a popular way of relocation, as shipping is a convenient way for moving a few items over long-distances. Though this type of moving is the fastest mode for moving limited number of items. You can use services like FedEx, USPS, and UPS for shipping your items. For shipping large-sized items you can connect with uShip.com.
Freight Trailer- Using a freight moving trailer instead of moving company is another way of moving affordably. This type of moving is similar to the moving container. You will pack and load the belongings in the freight trailer dropped by the company at your location. Freight trailers are good option for moving marge houses as they are typically 28-foot. Once freight trailer is dropped off at your location, you will get three days to load the items. The cost is based on the space covered by your items and not the weight. As the remaining space on the trailer will be given to the other customer.
Pick an Off-season move- Moving during the off-season is the most popular way of planning the cheapest move. During off-season, you can get the lowest rates than ever and more movers are easily available, so you will have more options. You can pick a date of your choice during off-season- October to April. If you can be flexible with your moving date, then this can be a better option. Also remember that the move during the weekends is expensive as compared to the midweek.
Free packing supplies- You can get a cheaper move if you collect free moving boxes and other packing supplies. Packing supplies counts one of the major expenses in any move. There are various packing items that you can collect from nearby places. Moving boxes are easily available for free at retail stores and other places. You can get free and used packing paper and moving boxes at online marketplaces. You can check platforms like Craigslist, U-Haul box exchange, bookstore, Nextdoor.com and more to find free packing supplies. Also ask your family and friends for any boxes. You can use household items for packing like old clothes, linen, etc.
Declutter & Sell- You can get a cheaper move if you get rid of several items that are of no use to you. You can sell them through yard sale, garage sale or online on eBay. This way you will make money and reduce the size of your shipment. You can use that money to manage the moving expenses.
Family & Friends help- You can always ask for a helping hand and plan a DIY or hybrid move or only hire moving labor. Your family and friends can help you in packing and also in loading the items on the moving truck. When they come for help you can host a goodbye party and create some memories as well.
TIPS TO REDUCE THE EXPENSES ON CROSS-COUNTRY MOVE
Long-distance moving is challenging in many ways like financially, emotionally and physically. Van Lines Move can help you in managing your long distance move and make it as easy as possible. Here we have added some tips so that you can reduce the cost of your cross-country move-
Collect multiple moving quotes
Get multiple moving quotes from different movers. Compare these moving estimates and pick the mover that fits your moving budget. It is better to get moving quotes at least 4 to 8 weeks before move. This way you can get better rates.
Get insurance for expensive items
Moving insurance be expensive while planning a move, but they are beneficial in long run. This will ensure that all the belongings are secured during the move.
Consider different ways for shipping items
You can go opt different methods for shipping your belongings like by train, by ship, USPS, UPS, FedEx, moving company, freight shipping and more. The method can be finalized only after considering the number and types of items to be moved.
In shared load moving, movers transport multiple loads on the same route at same time. This will save your money as your moving expense will be shared by other customers whose belongings will be moved by the mover on same truck.
Packing tips to pack like pro
Get various packing tips from the professional movers available on multiple online platforms. Use these tips to pack your belongings if you are not hiring a professional packer. Van Lines Move offer professional moving services at lowest possible rates.
CHECKLIST FOR A CHEAP CROSS-COUNTRY MOVE
Moving requires planning and organization and a moving checklist can help you save time, money and energy while managing a move. Use this checklist to get a cheap cross-country move. You can get detailed checklist on our website.
Start planning move as early as possible
Set a moving budget
Request multiple moving quotes, compare them and research the movers
Start decluttering the house and get rid of unused items
Make travel arrangements either book tickets or arrange your car
Inform landlord, service providers and utility providers
Book car shipping services
Arrange pet care and childcare service. Book pet moving service
Start paperwork if required.
Prepare for moving day, get a kit of essentials and some cash
FAQs
What is the cheapest way to move cross-country?
DIY move is considered as the cheapest way to move across the country. If you handle your move entirely then you will save thousands of dollars. You will save a huge amount when you pack the belongings by yourself.
How to plan a cross-country move?
For an efficient and easy cross-country move, you should start planning it by creating a moving checklist and a moving planner. This will help you plan and organize the move within a timeline. Go step by step like collecting moving quotes, decluttering the house and so on.
How can you calculate the cost of your move?
You can use an online free moving cost calculator by Van Lines Move to calculate the cost of your move. With our moving cost calculator, you can get an approximate value of your move and set your moving budget accordingly.
How to find a cross-country moving company?
Finding a cross-country moving company is very simple, you only have to visit www.vanlinesmove.com and provide your moving details. Within few seconds you will be connected with the top professional movers online.
What is the right time to hire a long-distance moving company?
If you decide to move with a moving company, the start contacting them as early as possible. Ideally, it should be 4 to 8 weeks ahead of your moving date.
Ready For your Move?
Start your booking
today and save
time and money!
Get Quote
Ready For your Move?
Start your booking today and save time and money!
Get Quote
Categories
Archives